A gunman shouting 'Allahu Akbar' opened fire at children in McDonald's before rampaging through a shopping mall, killing at least eight people.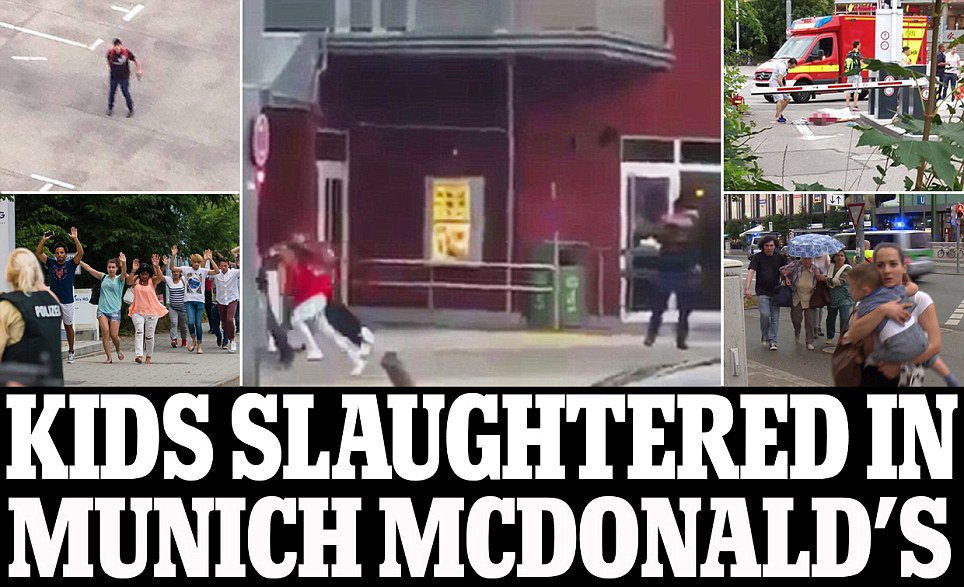 A huge manhunt has been launched across the city, including snipers in helicopters. Police said they believe there could be up to three gunmen who are on the loose. They issued a warning to people, saying: 'There are shooters on the run who are dangerous.'
A video purporting to show the shooter, dressed in black, firing 20 shots has been posted on Twitter. The footage shows him outside the McDonald's directly outside the shopping centre.
In unverified footage, a man with dark hair, wearing a black t-shirt and denim trousers, appears to take aim at people, including children, outside the McDonald's restaurant near the Olympia-Einkaufszentrum metro station.
Munich is in lockdown tonight, as a major police operation is ongoing around the city's Olympic Park, with the force warning people to stay in their homes and avoid public spaces.
A ninth body has been found tonight and investigators are looking into the possibility of it being the attacker.
Terrified shoppers were seen running for their lives from the Munich Olympia Shopping Centre, in the district of Moosach, after hearing gunshots.
Witnesses said that the gunman screamed 'I'm German' and 'Allahu Akbar' before shooting at children.
A woman named Loretta said she was in the McDonald's when the man with a gun came out of a bathroom and began shooting.
She told CNN: 'I come out of the toilet and I hear like an alarm, boom, boom, boom. He's killing the children. The children were sitting to eat. They can't run.'
http://www.dailymail.co.uk/news/article-3703705/Major-police-investigation-way-shots-fired-shopping-centre-Munich.html