Influx of Eastern European killers and conmen is putting a financial burden on UK courts | Daily Mail Online
An influx of Eastern European criminals in the UK is putting a huge financial burden on Britain's courts, a well-respected senior judge has warned.
Judge Tim Pontius, who has worked as a Crown Court judge for more than 20 years, said it is now 'commonplace' to see 'more Polish, Romanian, Albanian and Russian defendants' in court.
The 68-year-old said crimes committed by foreign defendants range from murder to large-scale frauds and violent assaults and said the increase was 'inevitable' given the number of migrants who have come to Britain in recent years.
Among those to have committed a serious crime in the UK in the last few years are Arnis Zalkalns – the convicted Latvian killer who abducted and murdered schoolgirl Alice Gross in west London, Dawid Tychon – the Polish burglar who was part of a gang that brutally assaulted father-of-four professor Paul Kohler during a raid on his £2million Wimbledon home and Victor Akulic – the Lithuanian who raped a woman within a year of entering the UK.
During an interview given this week to mark his retirement, Judge Pontius said the rise of foreign defendants was placing an enormous pressure on the Ministry of Justice.
He told The Telegraph: 'It is an extra financial burden, not least because where you have foreign defendants that means foreign witnesses as well and you need interpreters and they don't come cheap.
'That has been a significant increase in expenditure for the Ministry of Justice. It also means the trials take longer, not least because suddenly everything must be translated verbatim for the witnesses and defendants involved.'
The judge, the son of an RAF pilot, said there had been a number of times throughout his successful career where he had questioned why a foreign defendant, who had lived in Britain for several years, still needed a translator.
He told the newspaper: 'I sometimes ask: "How long have you been in this country?" and sometimes they say 20 years and I am amazed they have not learnt better English.'
Among those foreign criminals are Arnis Zalkalns (left) – the convicted Latvian killer who abducted and murdered schoolgirl Alice Gross and Dawid Tychon (right) – the Polish burglar who brutally assaulted father-of-four Paul Kohler during a gang raid at his £2million home
Judge Pontius, who has presided over more than 50 murder cases, is well-known within the justice system for his 'no-nonsense' approach to handing out sentences.
He has previously warned that he is 'not a soft touch' and will not allow foreign criminals to come to the UK, commit a crime and receive a lenient sentence.
Jailing a Romanian gang for a £1million theft campaign in May 2013, he said: 'Anyone who comes to the UK – irrespective of what part of the world – wanting to commit serious crime, must clearly understand such abuse of the hospitality of this country and its people must be seriously punished.
'No one should think for a moment that courts in the UK will be a soft touch. Sentences such as these must be seen as a powerful and effective deterrent not only to home-grown but also imported criminals.'
In his latest interview, the judge also expressed concerns about the rise in historic sex abuse cases, describing it as 'troubling'.
He has now retired from his role as a senior judge at the Old Bailey, being given a huge send-off in Court One on Tuesday. He now plans to take up playing the piano.
FOREIGN NATIONALS WHO HAVE COMMITTED CRIMES IN UK
THE VIOLENT GANGLEADER
Dawid Tychon led a Polish gang who attacked a father-of-four at his £2million home in London. Professor Paul Kohler was appallingly injured when he was beaten in front of his family. He was sentenced to 13 years after admitting aggravated burglary.
THE SEX ATTACKER
Gintas Burkinas, from Lithuania, walked into Britain after he was released from a ten-year jail term in his homeland. Within weeks, he raped a 31-year-old. He pleaded guilty to rape and grievous bodily harm and was sentenced to seven years.
THE DOUBLE RAPIST
Convicted Polish rapist Rafal Bargiel, 40, came to Britain under a false name before subjecting two young women to prolonged sexual attacks to 'teach them a lesson'. He was convicted of rape and false imprisonment and jailed for life last December.
KNUCKLE-DUSTER KILLER
Viktor Lakatos, 42, moved here in 2012 from Slovakia where he had served a six years for GBH. He was jailed in January for 18 years after launching a 'barbaric' knuckle-duster attack on a defenceless 89-year-old jeweller.
THE PAEDOPHILE AND RAPIST
Victor Akulic, from Lithuania, raped a woman within a year of entering Britain. He even filmed the attack, and then forced the woman to watch the footage when she gave evidence. He was jailed for life with a minimum eight-and-a-half years.
 REVENGE KILLER AND RAPIST
Ciprian Stanescu, 41, a Romanian, raped a woman within a year of arriving in the UK. He had been jailed for a revenge killing in his home country. He admitted rape and was jailed for eight years last September.
CHILD TRAFFICKER AND SEX OFFENDER
Eduard Peticky, a Slovakian was jailed for life for abusing and trafficking children in Rotherham. He travelled to England in 2008 and was allowed to stay despite convictions for rape in his home country.
THE AXE MURDERER
Intars Pless, a Latvian, was convicted of murdering a drinking companion with an axe in 1994. After his release, he moved to the UK. He was convicted of causing death while drink-driving and jailed for ten years.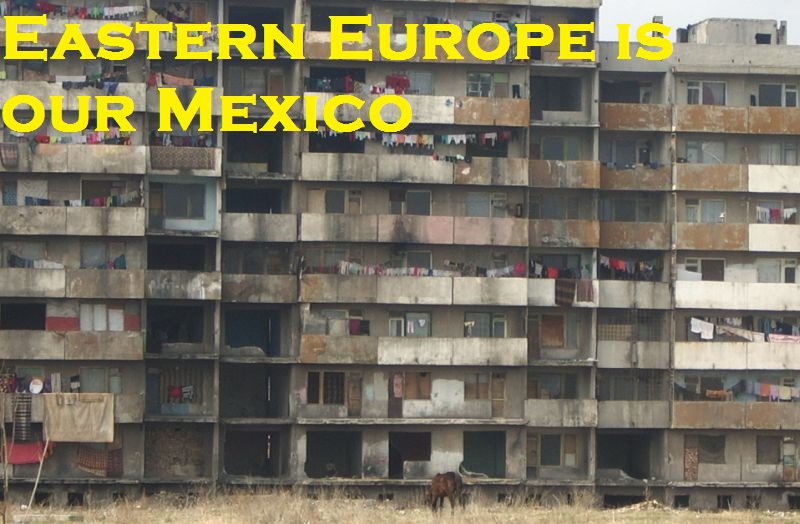 http://www.dailymail.co.uk/news/article-3779182/Influx-Eastern-European-killers-conmen-putting-huge-financial-burden-Britain-s-courts-warns-senior-judge.html