Michael Adebowale, 25, right
Fury as Lee Rigby killer is transferred to Broadmoor
http://www.dailymail.co.uk/news/article-4381150/Fury-Lee-Rigby-killer-transferred-Broadmoor.html
Michael Adebowale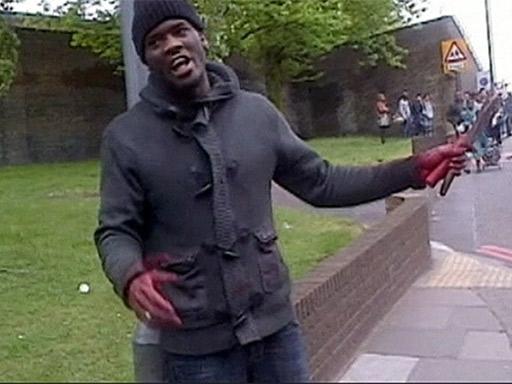 Lee Rigby
The soldier killed in the attack was 25-year-old Lee Rigby, a drummer and machine-gunner in the 2nd Battalion of the Royal Regiment of Fusiliers. Rigby, from Middleton, Greater Manchester, had served in Cyprus, Germany, and Afghanistan before becoming a recruiter and assisting with duties in the Tower of London. He was attacked when he was returning to barracks from working at the Tower. Rigby married in 2007 and had a two-year-old son, but had separated from his wife. He was engaged to a new fiancée at the time of his death. A post-mortem examination showed that Rigby died from "multiple incised wounds".
Rigby supported British Armed Forces charity Help for Heroes and was wearing a hoodie supporting the charity when he was attacked. In the five days after his death the charity received more than £600,000 in donations.
Rigby was given a military funeral at Bury Parish Church on 12 July 2013. The service was attended by several thousand people, including present and former soldiers, Prime Minister (((David Cameron))), and Mayor of London Boris Johnson. A private burial service was then held at nearby Middleton Cemetery. The first permanent memorial to him was installed in February 2014 at The Valley, a football stadium less than 1 mile (1.6 km) from the site of his murder.