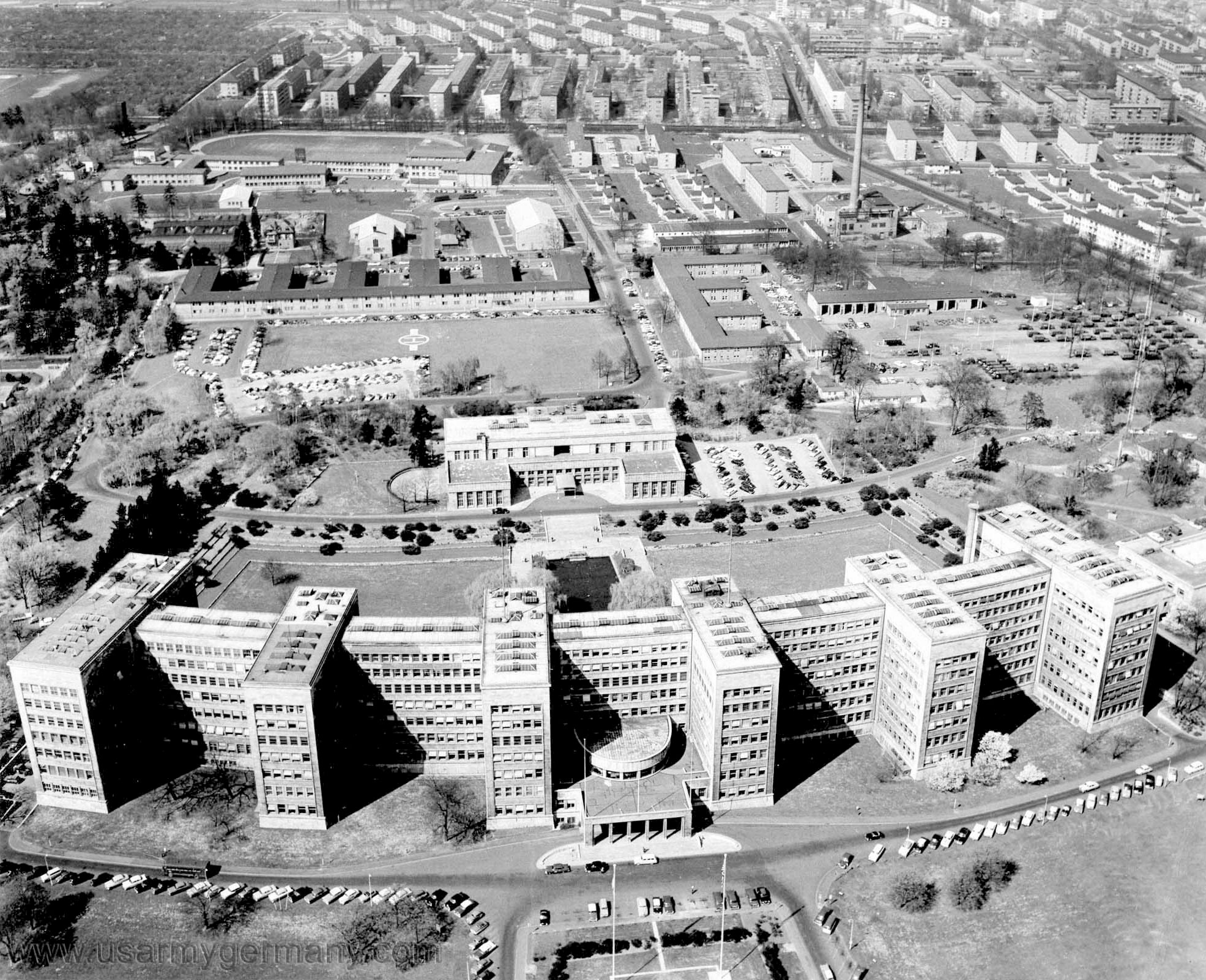 IG Farben headquarters in Frankfurt am Main, now used by the University of Frankfurt
IG Farben was a German chemical and pharmaceutical industry conglomerate. Its name is taken from Interessen-Gemeinschaft Farbenindustrie AktienGesellschaft (Plc Syndicate [literally, "community of interests"] of dye-making corporations). The company was formed in 1925 from a number of major chemical companies that had been working together closely since World War I. During its heyday, IG Farben was both the largest company in Europe overall and the largest chemical and pharmaceutical company in the world.
IG Farben scientists made fundamental contributions to all areas of chemistry and the pharmaceutical industry. Notably IG Farben scientists discovered the first antibiotic, fundamentally reformed medical research and "opened a new era in medicine." Otto Bayer discovered the polyaddition for the synthesis of polyurethane in 1937. Several IG Farben scientists were awarded Nobel Prizes. Carl Bosch and Friedrich Bergius were awarded the Nobel Prize in Chemistry in 1931 "in recognition of their contributions to the invention and development of chemical high pressure methods". Gerhard Domagk was awarded the Nobel Prize in Physiology or Medicine in 1939 "for the discovery of the antibacterial effects of prontosil". Kurt Alder was awarded the Nobel Prize in Chemistry in 1950 for his "discovery and development of the diene synthesis".
Following the NS takeover of Germany, the company became embroiled in the NS regime's policies as a large government contractor. In 1951, IG Farben was split into its four largest original constituent companies, which remain some of the world's largest chemical and pharmaceutical companies. The current main successor companies are AGFA, BASF, Bayer and Sanofi.
Of the 24 directors of IG Farben indicted in the so-called IG Farben Trial (1947–1948) before a U.S. military tribunal at the subsequent Nuremberg Trials, 13 were sentenced to prison terms between one and eight years, but most were quickly released and several became senior industry executives in the post-war companies that split off from IG Farben and other companies.
Some of the people who served prison sentences but later became leaders in post war-companies include:
Some of the people who were acquitted and later became leaders in post war-companies include:
Ruins of the synthetic petrol plant (Hydrierwerke Pölitz – Aktiengeselschaft) in Pölitz, North Germany (today Police, Poland/Polackistan).
Facilities during World War II
IG Farben facilities were bombing targets of the Oil Campaign of World War II, and up to 1941, there were 5 Buna plants that produced Buna N by the Lebedev process.
Dwory

The Buna Chemical Plant at Dwory was under construction by 1943, after a March 2, 1942 contract with "IG Farbenindustrie AG Auschwitz." The Buna Werke plant, which produced synthetic oil and rubber (from coal), was the beginning of SS activity and camps near Auschwitz III-Monowitz. At its peak in 1944, this factory made use of 83,000 slave laborers. Today, the plant operates as "Dwory S.A." 
Frankfurt

In addition to the "cavernous" IG Farben building at Frankfurt, a Hoechst AG chemical factory in Frankfurt was bombed by the RAF on 26 September 1944.
Ludwigshafen and Oppau

The I.G. Farbenindustrie, A. G., Works, Ludwigshafen and Oppau had several chemical plants.
Pölitz, North Germany (today Police, Poland)

In 1937, IG Farben, Rhenania-Ossag, and Deutsch-Amerikanische Petroleum Gesellschaft founded the Hydrierwerke Pölitz AG synthetic fuel plant. By 1943, the plant produced 15% of Germany's synthetic fuels, 577,000 tons.
Waldenburg

An IG Farben plant was at Waldenburg.
Heinrich Himmler (foreground, left) visiting IG Farben's synthetic rubber (Buna) plant at Auschwitz, being shown round by IG Farben executive Carl Krauch (centre) and Auschwitz commandant Rudolph Höss. Krauch, sentenced to 6 years by a US war crimes tribunal, was released for "good behaviour" two years later.
By the time of the First World War, the programmes to produce synthetic nitrate (for gunpowder) and also poison gas weapons brought the German chemical industry into a mutually dependent relationship with the state, which increased still further with military contracts for products such as dye for service uniforms, medicines and paints, replacing the exports that had been interrupted by the war. Also, in August 1916, responding to growing international competitive pressures, a sort of half-merger of Germany's chemical industries took place; the shape of IG Farben was beginning to emerge.
Following the First World War, the half-merged German chemical companies, facing a weaker international position and needing to update technology, to invent new products and find new capital, decided to merge fully. In December 1925, IG Farben was born.
In 1933, IG Farben donated 400,000 Reichsmarks to the National Socialist Party, the largest donation from a firm. In the March 1933 election Hitler emerged with a slim majority, before crushing all internal party opposition. A few weeks later the cartel increased its financial contributions and by the end of the year had given 4.5million Reichsmarks. IG Farben now settled into a stance of collaboration with the National Socialist regime. Though some of its leading directors remained non-National Socialist, from this moment on many of its leading managers became National Socialist Party members and the company and state interests merged.
Break-up and liquidation
Due to the company's entanglement with the NS regime, it was considered by the Allies to be too morally corrupt to be allowed to continue to exist. The Soviet Union seized most of IG Farben's assets located in the Soviet occupation zone, as part of their reparation payments. In the western occupation zone, however, the policy of destroying the company was very quickly abandoned, not least because of the company's large entanglement with American companies, notably with the successors of Standard Oil which IG Farben was modelled after and which had itself been broken up into several companies. In the late 1940s, IG Farben was being rebuilt in the western zones and continuing doing business. In 1951, the company was split into its original constituent companies. The four largest quickly bought the smaller ones.
Today Agfa, BASF and Bayer remain, Hoechst having in 1999 spun off its chemical business as Celanese AG before merging with Rhône-Poulenc to form Aventis, which later merged with Sanofi-Synthélabo to form Sanofi. Two years earlier, another part of Hoechst was sold in 1997 to the chemical spin-off of Sandoz, the Muttenz (Switzerland) based Clariant. The successor companies remain some of the world's largest chemical and pharmaceutical companies.
IG Farben was officially put into liquidation in 1952, this did not end the company's legal existence. The purpose of the corporation's continuing existence, being "in liquidation", is to ensure an orderly wind-down of its affairs. As almost all its assets and all its activities had been transferred to the original constituent companies, IG Farben was from 1952 largely a shell company with no real activity.
In 2001, IG Farben announced it would formally wind up its affairs in 2003. It has been continually criticised over the years for failing to pay any compensation to the former laborers, the stated reason for its continued existence after 1952 being to administer its claims and pay its debts. The company, in turn, blamed ongoing legal disputes with the former captive labourers as being the reason it could not be legally dissolved and the remaining assets distributed as reparations. On November 10, 2003, its liquidators filed for insolvency, but again, this does not affect the existence of the company as a legal entity. While it did not join a national compensation fund set up in 2001 to pay the victims, it contributed 500,000 DM (£160,000 or €255,646) towards a foundation for former captive labourers under the NS regime. The remaining property, worth DM 21 million (£6.7 million or €10.7 million), went to a buyer. Each year, the company's annual meeting in Frankfurt was the site of demonstrations by hundreds of protesters. Its stock (denominated in Reichsmarks) traded on German markets until the spring of 2012. As of 2012, it still exists as a corporation in liquidation.