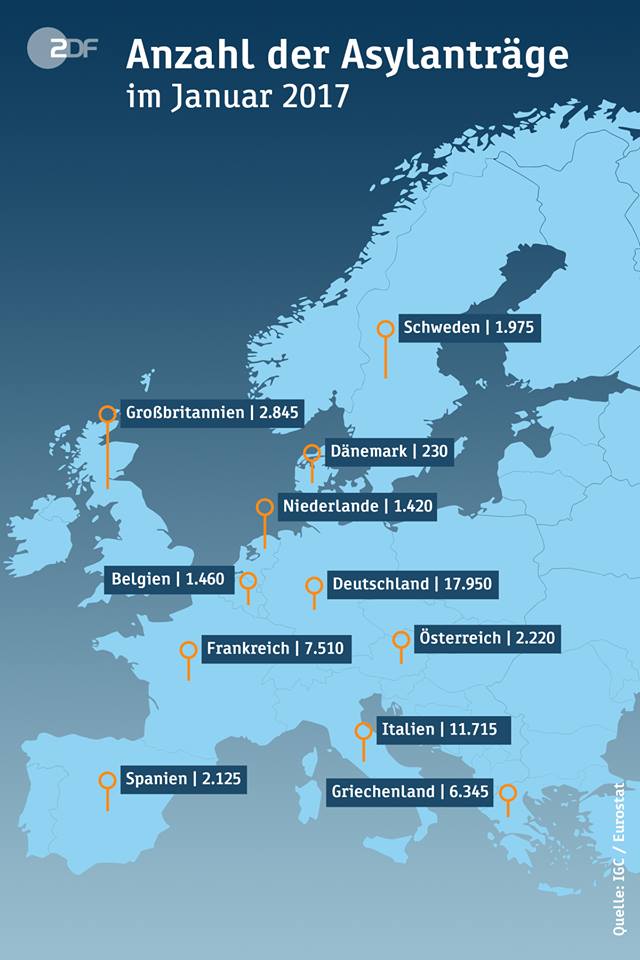 Understanding Migration and Asylum in the European Union
Asylum seekers have no legal duty to claim asylum in the first EU state they reach, and many move on, seeking to join relatives or friends for support, or to reach a country with a functioning asylum system. However, the "Dublin" regulation stipulates that EU member states can choose to return asylum seekers to their country of first entry to process their asylum claim, so long as that country has an effective asylum system.
EU countries in the north, the desired destination of many "refugees", have sought to use this Dublin system to their advantage, at the "expense" of the south, where most "refugees" first arrive. Yet these efforts have been obstructed by failures of asylum systems in the south. Domestic and European courts have ruled against asylum seekers being returned to Greece, notably in a landmark case in 2011 that found Belgium in violation of the European Convention on Human Rights for exposing an Afghan national to detention, harsh living conditions, and risks arising from shortcomings in Greece's asylum system after a return.
Germany welcomed more than 1 million "refugees" in 2015. Because of South and East Europe's open borders policy, which they have practice for decades!
Net Migration Rate 2016
"European Solidarity" – The war on Germanic people!
Citizenship of the European Union
This is a summary of nationality laws for each of the twenty-eight EU member states.
Member State
Acquisition by birth
Acquisition by descent
Acquisition by marriage
Acquisition by naturalisation
Multiple nationality permitted
Austria
Persons born in Austria:

at least one of whose married parents is an Austrian citizen
out of wedlock and whose mother is Austrian citizen
who is foundling and is found out under the age of 6 months

Austrian nationality is acquired by descent under one of the following conditions:

6 years' residence if married for at least 5 years (and general citizenship conditions are met, including German language proficiency)

6 years' residence if born in Austria, citizen of another EEC country, granted asylum, or "exceptionally integrated"
depending on fulfillment of other conditions, up to 30 years' residence

Only allowed with special permission or if dual citizenship was obtained at birth (binational parents [one Austrian, one foreign] or birth in a jus-soli country such as USA and Canada)
Belgium
Persons born in Belgium who:

are stateless
are foundlings
lose any other nationality before 18
have a parent born in Belgium
have a birth or adopted parent resident in Belgium for at least 5 of the past 10 years

Belgian nationality is acquired by descent under one of the following conditions:
Yes—after 3 years cohabitation in Belgium

5 years' residence—can petition federal government
10 years' residence—automatic by request at city hall
2 years' residence (stateless persons)

Yes
Bulgaria
Persons born in Bulgaria who:

are stateless
are foundlings

Bulgarian nationality is acquired by descent under one of the following conditions:

The applicant should be at least 18 years old;
have permission for permanent or for long-term residence in Bulgaria since at least 3 years;
have not been investigated or sentenced by the Bulgarian authorities;
have income or occupation;
be able to speak and write in Bulgarian;
renounce previous citizenship (not applicable to citizens of the EU and EEA countries, Switzerland and countries with reciprocity agreement with Bulgaria; dual citizenship is allowed for them);
have marriage to Bulgarian citizen since at least 3 years and the marriage is actual.

The applicant should be at least 18 years old;
have permission for permanent or for long-term residence in Bulgaria since at least 5 years;
have not been investigated or sentenced by the Bulgarian authorities;
have income or occupation;
be able to speak and write in Bulgarian;
renounce previous citizenship (not applicable to citizens of the EU and EEA countries, Switzerland and countries with reciprocity agreement with Bulgaria; dual citizenship is allowed for them).

Yes – for Bulgarian citizens by birth;
Yes – for naturalised citizens of the EU and EEA countries, Switzerland and countries with reciprocity agreement with Bulgaria[43]

Croatia
Persons born in Croatia:

At least one parent is a Croatian citizen
who is foundling (but such citizenship can be revoked if later established both parents were foreign citizens)

Croatian nationality is acquired by descent under one of the following conditions:Conditions: born to Croatian parents born after March 1, 1991 and if parents are married at the time of birth, Croatian citizenship of mother the father is required should the parents happen to marry at some time after birth, citizenship is automatically granted to child retroactively. If the child is over 14 at that time, child's consent is needed. ?

8 years' residence (can be shortened)

8 years' residence
sufficient knowledge of Croatian language

Yes, but persons seeking to become Croatian citizens by naturalisation are to renounce foreign citizenship unless applying by 'privileged naturalisation' (e.g. descendants of Croatian emigrants)
Cyprus
Persons born in Cyprus who:

are stateless
are foundlings

Cypriot nationality is acquired by descent under one of the following conditions:
Yes
Czech Republic
Persons born in the Czech Republic:

who are foundlings
whose parents are both stateless, and at least one of whom is a Czech permanent resident

No

Holders of a Czech permanent residence permit for at least 5 years (or 3 years for EU citizens), with real/factual residence in Czechia totalling at least half the relevant period (absences not exceeding 2 months (or 6 months for serious reasons) not being relevant)
Holders of a Czech permanent residence permit (at the date of the application), and lawfully resident in Czechia for 10 years, with real/factual residence in Czechia totalling at least 5 years (absences not exceeding 2 months (or 6 months for serious reasons) not being relevant)

Yes, effective January 1, 2014[44]
Denmark
Persons born in Denmark who:

Persons who have at least one parent with Danish citizenship.

6 years' residence if married for at least 3 years

9 years' residence (holders of a permanent residence permit)
8 years' residence (refugees and stateless persons)
2 years' residence (citizens of a Nordic country, i.e. Finland, Iceland, Norway and Sweden)

Yes, effective September 1, 2015[45]
Estonia[46]
Persons born in Estonia who:

Persons who have at least one parent with Estonian citizenship.

No (unless married to an Estonian citizen before 26 February 1992)
Estonia does not recognize multiple citizenship. However, Estonian citizens by descent cannot be deprived of their Estonian citizenship, and are de facto allowed to have multiple citizenship.
Finland
Persons born in Finland who:

are stateless, or
are foundlings

(Possibility to obtain citizenship by declaration exists for inborn aliens who have lived a major part of their childhood in Finland.)

Finnish nationality is acquired by descent from a Finnish mother, and from a Finnish father under one of the following conditions:

Minimum residence requirement of four years of residence.

Five years of residence (or a total of seven years of residence since age 15) in Finland; and
knowledge of at least one of Finnish, Swedish or Finnish sign language.
Reductions apply under certain conditions.

Yes
France

At birth, persons born in France who:

are stateless, or
have a parent born in France

Aged 13-16, persons born in France upon the parent's request, having resided habitually in France since the age of 8.
Aged 16-18, persons born in France upon their own request, having resided in France for 5 years (continuously or discontinuously) since the age of 11.
Aged 18, automatically for persons born in France, having resided in France for 5 years (continuously or discontinuously) since the age of 11.

French nationality is acquired by descent under one of the following conditions:

Through parentage (right of blood):[48]
The child (legitimate or natural) is French if at least one parent is French.

4
years' marriage; also, after 5 years outside France

Yes
Germany
Persons born in Germany, if at least one parent has resided in Germany for at least 8 years and holds a permanent residence permit
German nationality is acquired by descent under one of the following conditions:

Through parentage (right of blood)
Member of recognised historical German community abroad (e.g. in the Balkans, Kazakhstan); Also granted to children/grandchildren of those deprived of citizenship by the Nuremberg Laws

2 years of marriage and 3 years of continuous residence in Germany

8 years' residence
7 years' residence (if an integration course has been completed)
6 years' residence (if especially well integrated and has a very high command of the German language, or a refugee or stateless person)
No residence (victims of Nazi persecution)

No, unless:
Greece
Persons born in Greece who:

have a parent born in Greece
are foundlings
are stateless

Greek nationality is acquired by descent under one of the following conditions:

Member of recognised historical Greek community abroad in countries of ex-USSR
Ethnic Greek of different citizenship accepted to military academies, or inscribes to serve to the army, or enlists as a volunteer in time of war
Child or grandchild of a Greek Citizen

3 years of continuous residence in Greece and has an offspring from the marriage

10 years residence in the last 12 years
5 years residence in the last 12 years for refugees
Sufficient knowledge of Greek language, Greek history, and Greek culture in general
Athlete of an Olympic Sport, with 5 years residence in the last 12 years, who fulfills the conditions of being a member of the Greek National Team of that sport, as these are stated by the international laws for that sport

Yes
Hungary
Persons born in Hungary who:

are foundlings
are stateless

Hungarian nationality is acquired by descent under one of the following conditions:

At least one parent is a Hungarian citizen
Any person of Hungarian ethnicity, which has to be proven by

sufficient level of Hungarian language
demonstrating at least one ancestor born in the Kingdom of Hungary (no limit on number of generations).

Yes After 3 years

After 8 years and meeting conditions of good character
After 5 years if

born in Hungary
resided in Hungary in their pupillage
stateless

After 3 years if

married to a Hungarian citizen
has a minor child that is Hungarian citizen
adopted by a Hungarian citizen
refugee in Hungary

Yes
Italy
Persons born in Italy who:

have a parent born in Italy
are foundlings
are stateless

Italian nationality is acquired by descent under one of the following conditions:

2 years of legal residence in Italy (3 years if living abroad) through naturalisation

10 years' residence, no criminal record and sufficient financial resources
7 years' residence for children adopted by Italian citizens
5 years' residence for refugees or stateless individuals
4 years' residence for EU member states nationals[49]
3 years' residence for descendants of Italian grandparents and for foreigners
born in Italy

Yes
Latvia
Persons born in Latvia who:
Latvian nationality is acquired by descent under one of the following conditions:

After 5 years of permanent residence

Starting from October the 1st, 2013 hereby listed persons are eligible[50] to have dual citizenship with Latvia:

citizens of member countries of EU, NATO and EFTA (Iceland, Liechtenstein, Norway, Switzerland)
citizens of Australia, Venezuela, Brazil, New Zealand
citizens of the counties that have had mutual recognition of dual citizenship with Latvia
people who were granted the dual citizenship by the Cabinet of Ministers of Latvia
people of Latvian or Livonian ethnicity or exiles registering citizenship of Latvia[51]
people who have applied for dual citizenship before the previous Latvian Citizenship law (1995).

Lithuania
Persons born in Lithuania who:
Lithuanian nationality is acquired by descent under one of the following conditions:

at least one parent is a Lithuanian citizen
at least one direct ancestor was Lithuanian citizen during the period of 1918-1940.

7 years of permanent residence and demonstrating Lithuanian language ability

No
Luxembourg
Persons born in Luxembourg who:

are stateless, or
are foundlings, or
have a parent born in Luxembourg

No

7 consecutive years' residence

Yes
Malta

Persons born in Malta between 21 September 1964 and 31 July 1989
Persons born outside Malta between 21 September 1964 and 31 July 1989 to a father with Maltese citizenship through birth in Malta, registration or naturalisation
Persons born on or after 1 August 1989, inside or outside Malta, to at least one parent with Maltese citizenship through birth in Malta, registration or naturalisation

Maltese nationality is acquired by descent under the following condition:

Direct descendant, second or subsequent generation, born abroad of an ascendant who was born in Malta of a parent who was also born in Malta.

Yes5 years of marriage to a Maltese citizen (if de jure or de facto separated, then still living together five years after the marriage) or a widow/widower of a Maltese citizen five years after the marriage
5 years of residence
Yes
Netherlands
Persons born in Netherlands who:
Dutch nationality is acquired by descent under one of the following conditions:

Persons with a Dutch parent

3 years of residence and demonstrating Dutch language ability

After 5 years uninterrupted residence, with continuous registration in the municipal register
No, unless:[52][53]

Persons over 18 with multiple nationalities must live in the Netherlands or the EU for at least one year out of every ten years, or receive a Dutch passport or a nationality certificate every ten years.

Poland

A child born to a Polish parent.
Children born or found in Poland acquire Polish citizenship when both parents are unknown, or when their citizenship cannot be established, or if determined to be statelessness.

Polish nationality is acquired by descent under one of the following conditions:
Yes

3 years of residence with permanent residence permit card under the condition of speaking Polish language
2 years of residence with permanent residence permit card under the condition of having Polish ethnicity

Yes but in Poland, Polish identification must be used and the dual citizen is treated legally as only Polish
Portugal
Persons born in Portugal who:

are stateless
are foundlings
have a birth parent resident in Portugal for at least 10 years on a valid residence permit
have a birth parent with citizenship of a Lusophone country and resident in Portugal for at least 6 years on a valid residence permit

Portuguese nationality is transmitted by descent under one of the following conditions:

A person married to a Portuguese national for at least 3 years can apply to be registered as a Portuguese national as a matter of right, provided that the registration is applied for during the marriage (and not after its dissolution by death or divorce). Nationality takes effect upon registration and is not retroactive, and is not lost by the dissolution of the marriage.

Yes
Ireland
Persons born in Ireland:

are automatically an Irish citizen if he or she is not entitled to the citizenship of any other country.
entitled to be an Irish citizen if at least one parent is:

an Irish citizen (or someone entitled to be an Irish citizen).
a resident of the island of Ireland who is entitled to reside in either the Republic or Northern Ireland without any time limit on that residence.
a legal resident of the island of Ireland for three out of the 4 years preceding the child's birth.

Irish nationality is acquired by descent under one of the following conditions:

if at the time of birth, at least one parent was an Irish citizen.
if you have an Irish citizen grandparent born on the island of Ireland. The parent would have automatically been an Irish citizen. Grandchild can secure citizenship by registering themselves in the Foreign Births Register. Citizenship gained via the Foreign Births Register can only be passed on to children born after the parent themselves were registered.

3 years of marriage or civil partnership to an Irish citizen

5 years of residency in Ireland, of which 1 (one) year immediately before application

The residency period can be waived, in the discretion of the Minister of Justice, for a person of "Irish descent or associations".

Yes
Romania
Persons born in Romania who:

are foundlings
have Romanian parents

Romanian nationality is acquired by descent under one of the following conditions:

5 years' residence in Romania

8 years' residence
4 years' residence (EU citizens)

Yes[54]
Slovakia
Persons born in Slovakia who:
Slovak nationality is acquired by descent under one of the following conditions:

After 5 years' residence in Slovakia, and living in Slovakia without any immigration restrictions at the time of application

8 years' residence (5 years until a permanent residence is acquired plus 3 years of permanent residence)

Dual citizenship is only permitted to Slovak citizens who acquire a second citizenship by birth or through marriage; and to foreign nationals who apply for Slovak citizenship and meet the requirements of the Citizenship Act.[55][56]
Slovenia
A child born in Slovenia is a Slovenian citizen if either parent is a Slovenian citizen. Where the child is born outside Slovenia the child will be automatically Slovenian if:

both parents are Slovenian citizens; or
one parent is Slovenian and the other parent is unknown, is of unknown citizenship or is stateless.

A person born outside Slovenia with one Slovenian parent who is not Slovenian automatically may acquire Slovenian citizenship through:

an application for registration as a Slovenian citizen made at any time before age 36; or
taking up permanent residence in Slovenia before age 18.

Children adopted by Slovenian citizens may be granted Slovenian citizenship.

Slovenian nationality is acquired by descent under one of the following conditions:

A person of "Slovenian origin" up to the fourth generation in direct descent or a former Slovenian citizen may be naturalised without any residence requirements.

A person who is married to a Slovenian citizen for at least two years may be naturalised after one year's residence in Slovenia

A total of 10 years residence in Slovenia, including 5 years continuous residence before the application

Dual citizenship is generally permitted in Slovenia, except for certain persons seeking to become Slovenian citizens by naturalisation they are to renounce any foreign citizenship (the requirement to renounce foreign citizenship may be waived upon special application).

Spain
Persons born in Spain who:

are stateless, or
are foundlings

Children of Spanish citizens

1[57] year of marriage to a Spanish citizen and residence in Spain

Sweden[58]
Persons born in Sweden who:

are stateless, or
are foundlings (cancelled if parents found)

Swedish nationality is acquired by descent under one of the following conditions:

3 years' marriage in case residing in Sweden, 10 years in case living abroad with a Swedish spouse and has 'strong ties' to Sweden, by family visits and such

5 years normal residence permit (not the time limited residence/work permit/Study Permit) and must hold Swedish permanent residence permit at the time of applying or person with a visa intended for settlement in Sweden with 5 years residence in Sweden.
2 years if citizen of a Nordic country (i.e. Denmark, Finland, Iceland and Norway)[59]

Yes
United Kingdom
Persons born in United Kingdom who are "British by birth" (see separate article)
British nationality is acquired by descent under one of several conditions. See separate article section of "British by descent" for details.

3 years' residence (must be without any immigration restrictions on date of application)[60]

5 years' continuous residence, with at least 12 months' residence without any conditions (the last year of which without any immigration restrictions, i.e. Indefinite Leave to Remain or permanent residence as an EU citizen)[60]

Yes
https://en.wikipedia.org/wiki/Citizenship_of_the_European_Union