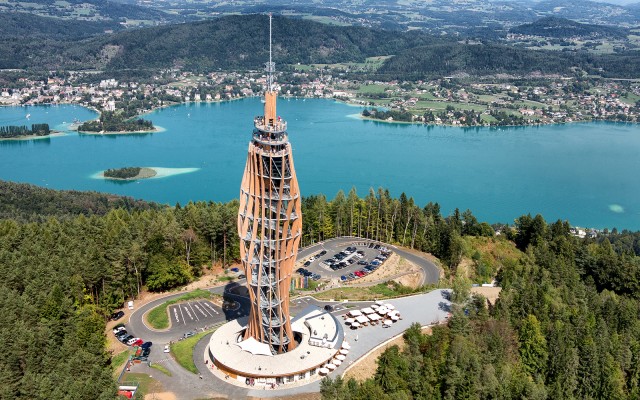 In July 2006, plans were made to tear down the existing tower and replace it with a new building, a multi-purpose activity centre, which was approved in 2007 and for which the Carinthian government set aside €10 million in 2008. A competition for the new design was started in 2007; the architectural firm of Klaura & Kaden won the competition. Construction was to have begun by late 2008, and the old tower was imploded in October 2008, but financial and political difficulties prevented any new construction.
The new tower, finished in 2013, was described by Dietmar Kaden as a "Himmelsleiter aus gestapelten Ellipsen," a ladder into heaven made of stacked ellipses, and is to function as a "Leuchtturm der Holzbranche," a lighthouse for the timber industry. No name has been decided on; Markus Klaura has proposed "Isis Noreia," for the goddesses Isis and Noreia (the latter a Germanic deity, the Roman equivalent of Isis).
The new tower is built of wood and steel, and at a height of 100 metres it is the tallest wooden observation tower in the world. Architects Markus Klaura and Dietmar Kaden of Klagenfurt and structural engineer Markus Lackner of Villach have designed a structure which features a visitors platform at 83 metres, a cafe at 70 metres, and a 66-metre-long (217 ft) slide (the longest slide in Europe). The tower is PEFC-certified.