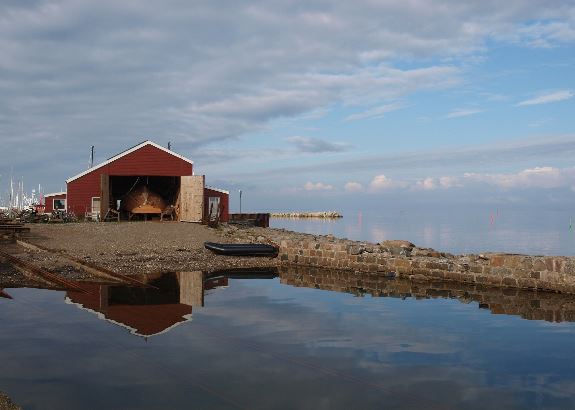 At Løgstør Harbour, at the old slipway, lies Løgstør Boatyard's workshop.
This is where repairs and conversions are being carried out on commercial and pleasure craft, and in the winter season a number of weekend courses with maritime content are also offered. In the 2017 – 18th season there are 9 courses on the programme, one of which is new.
The new course is called boat construction and is aimed at the one who wants to learn about the secrets of the ship's drawing. Participants work through the entire process from a loose idea to the completed line drawing, and in addition, get an insight into the calculations that belong to them.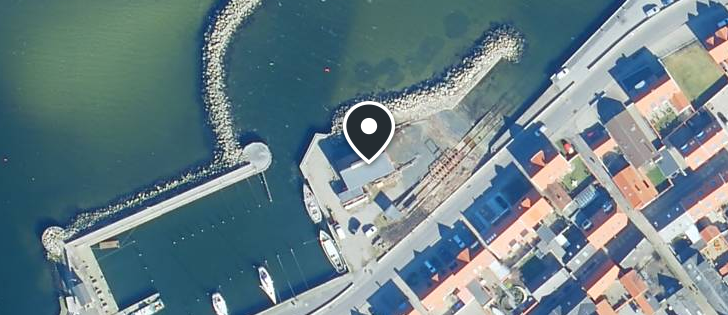 Løgstør
is a town with a population of 4,284 (1 January 2014). It is located 47 km west of
Aalborg
and 64 km north of
Viborg
. Løgstør city centers consist of old streets with small houses built in the 1800s for fishermen and
sailors
. One of these houses was donated by Danish housemen to the author and poet
Johan Skjoldborg
(born 1861 – 1936) in 1918, who lived in the house until his death. It is located on Johan Skjoldborgs Vej.
The name Løgstør is mentioned for the first time in 1514, where the city is described as a fishing village. Later, the site developed into a charging and trading space, and in 1523 the city became a customs office. Although Løgstør is an old trading place that, like Nibe, flourished in the 16th century due to its herring markets, but it only got its first merchant's rights in the year 1900. Over and over again, the merchant position from Aalborg set itself counter to neighboring attempts to expand trade opportunities and create economic growth in the smaller communities. Already in 1598, aalborgian complaints made a royal ban on Løgstør's spirited trade in grain and icecream, and in 1752, Aalborg's powerful merchants blocked the small harbor town's application, as the merchants once again feared increased competition in the limfjord area. In 1747 and 1751, Løgstør was ravaged by violent fires, and in these difficulties the population declined, so that in 1769 the city had only 392 inhabitants.
Due. The shallow løgstør ground had difficulty finding ships at Løgstør, and even fewer created after Agger Tangs were pierced at Thyborøn in 1825 so that they could now sail into the Limfjord from the North Sea. It was therefore decided to build Frederik VII's Channel and Frederick VII was the king of Denmark. The channel was 4.4 km long, a width of approx. 25 m and a depth of 3 m and walked along the mainland west and southwest of Løgstør, so that it could be added to the shopping district. Several hundred ships passed the Channel every year, and at the end of the 19th century, almost 3,000 vessels arrived. year. A ferry through Løgstør Land was a shortcut to Løgstør Harbor and the closed canal in 1913 for shipping traffic. It was preserved for cultural reasons. Agriculture gradually came to play an increasing role for Løgstør, and trade in agricultural products necessitated a better infrastructure. The harbor was therefore expanded, new roads were built and in 1893 the railway arrived at the city. Seven years later, the city acquired a commercial property rights. In 1942 the Aggersund bridge was built over the fjord, and Løgstør's opland was expanded to include the southern part of Han Herred.
Løgstør is also a former municipality (Danish, kommune) in Region Nordjylland on the Jutland Peninsula in northern Denmark. The municipality, including the island of Livø, covered an area of 218 km2 (84 sq mi), and had a total population of 10,270 (2005). Its last mayor was Jens Lauritzen, a member of the Venstre (Liberal Party) political party. A bridge connects the former municipality near Tolstrup to the town of Aggersund on the far side of the Agger Strait. The island of Livø lies off the former municipality's western shores, and is partially a protected nature reserve.
On 1 January 2007, Løgstør municipality ceased to exist as a result of Kommunalreformen ("The Municipality Reform" of 2007). It was merged with Farsø, Aalestrup, and Aars municipalities, to form the new Vesthimmerland municipality, with an area of 815 square kilometres (315 sq mi) and a total population of 39,176 (2005).
Løgstør Church, a neo Gothic building built in red brick in 1893 with a tall slanting tower facing west. Johan Skjoldborg's grave is in the cemetery.