Africa in France: Rhino Poached at the Paris Zoo, Horn Cut Off with Chainsaw.
Vince the rhino was shot three times in the head.
Vince (22 September 2012 – 5 March 2017) was a Southern white rhinoceros who was killed by poachers inside a zoo in Thoiry near Paris, France.
Birth and life 
Vince was born on 22 September 2012 at Royal Burgers' Zoo, Arnhem, Netherlands. He was the second calf produced by 12-year-old Kwanzaa and her 20-year-old mate Gilou. Vince was born six weeks premature. On 6 November 2012 he was introduced to other safari animals at the Zoo.
In March 2015, Vince and another rhinoceros Bruno were transferred to Parc Zoologique de Thoiry in France. He lived in an enclosure with two other rhinoceroses, Bruno and Gracie. The three animals bonded, and Vince and Bruno, who were the same age, often played together. 
Killing 
On 5 March 2017, Vince was shot three times and killed by poachers. They stole one of his horns after sawing it off with a chainsaw, and partially sawed off his second horn. Rhinoceros horns are used in traditional Chinese medicine and Asian cultures, and a single horn can be sold for up to $300,000 on the black market. 
On his death, Thierry Duguet, the head of the zoo, said "There has never been a case like this in a zoo in Europe, an assault of such violence, evidently for this stupid trafficking of rhinoceros horns". French Minister Ségolène Royal called the killing a "criminal act."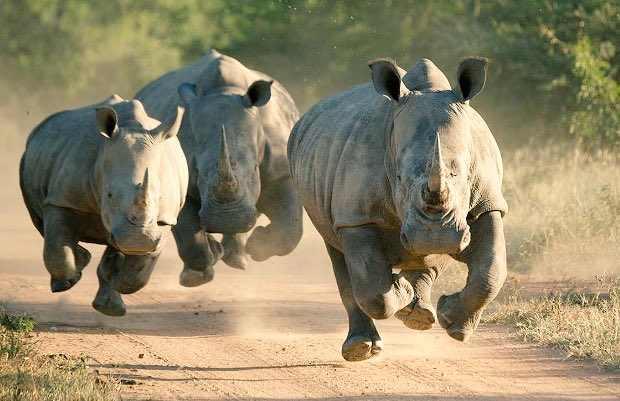 Three African Rhinos Poached Every Day for Fifth Straight Year
One of the world's leading investigators into the illegal trade in ivory and rhino horn has been killed in Kenya.
World's last male northern white rhino dies
RHINO STATISTICS – POACHED AND POPULATION FIGURES
Both Environment and Genetic Makeup Influence Behavior
Matador gored in the crotch by furious bull left grimacing in agony
Colored people most often love abusing animals
Torture Festival Banned in Mexico!
Yulin Dog Meat Festival CONTINUES!!!
Yulin dog eating festival: 3000 dogs skinned alive, blow-torched then served-up as food
Why China's dog eating festival is a wake-up call to the world
The 14 Worst 'Festivals' Still Taking Place Today
Justice For Tiny Puppy Skinned Alive And Tossed In A Garbage Can To Die!
"Alarming" — For the First Time Ever, Bees Added to the Endangered Species List
The vanishing animals that future generations will never see
EXOTIC Pets That Are TAKING OVER Florida!
Congo's Ebola outbreak poses challenges for bush meat
Britain's Hedgehog numbers halved since millennium
Reclassify the theft of a pet to a specific crime in its own right.
Denmark at the forefront of European efforts to combat pet smuggling