It looks like Russia will not accept, that the North Pole belongs to Denmark.
Project 23550 patrol ships is a class of heavily-armed icebreaking patrol ships with two vessels currently under construction for the Russian Navy at Admiralty Shipyard in Saint Petersburg, Russia. Two ships have been ordered from the Admiralty Shipyard in 2016.
 The ships are designed to patrol the Russian territorial waters and "exclusive economic zone in the Arctic."
During the launching ceremony of the lead ship, it was announced that two additional ships of slightly revised design would be built for the Border Service of the Federal Security Service of the Russian Federation by Vyborg Shipyard.
Project 23550 patrol ships have a planned displacement of 6,800 tons, a length of 114 metres (374 ft 0 in) and a draught of 6 metres (19 ft 8 in). They are designed to break through ice up to 1.5 metres (4 ft 11 in) thick. The ships will be equipped with two Project 03160 Raptor type military boats, a Ka-32 helicopter and small hovercraft. The core crew is planned at 60 with accommodation for an additional 50 mission specialists. Armament will include a 100 mm gun (some sources state a 76 mm gun) and 3M-54 Kalibr anti-ship missiles.
Project 23550 will have a diesel-electric power plant with four 3,500-kilowatt Kolomna 28-9DG generating sets consisting of 16-cylinder 10D49 diesel engines driving alternators produced by Ruselprom. In addition, the ships will have two auxiliary diesel generating sets with Kolomna diesel engines and Ruselprom alternators. While the early concept featured ABB Azipod azimuthing propulsion units, the builder's model showed conventional shaft lines, propellers and rudders. The 6.3-megawatt propulsion motors will be produced by Ruselprom. The ships will have an endurance of 60 days and a range of 6,000 nautical miles (11,000 km; 6,900 mi).
The vessels are strengthened for navigation in ice-covered arctic seas according to the Russian Maritime Register of Shipping ice class Arc7.
Ice breakers there are plenty of. But until now no one have been equipped not only with guns but also missiles, which can be used to fire on other ships as well as positions on land.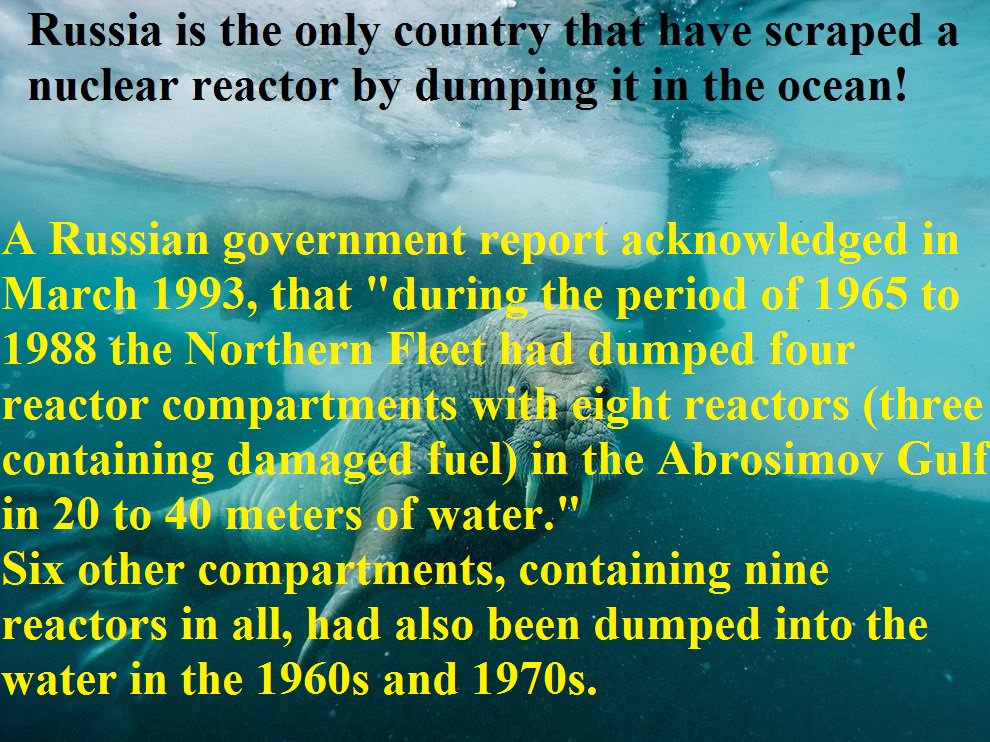 The junkie mentality:
"Despite being a replacement for many types of submarines, the Borei-class submarines are slightly shorter than the Typhoon class (170 m (560 ft) as opposed to 175 m (574 ft)), and have a smaller crew (107 people as opposed to 160). These changes were in part designed to reduce the cost to build and maintain the submarines. In addition, the United States and Canada provided 80% of funds for scrapping the older Typhoon-class submarines, making it much more economical to build a new submarine."
"At the end of the Cold War, the Zvezda shipyard was used to decommission Soviet nuclear submarines, with funding and support from the USA and Canada under the Nunn–Lugar Cooperative Threat Reduction initiative."
"The decommissioning of Russian nuclear-powered vessels is an issue of major concern to the United States and to the Scandinavian countries near Russia. From 1950 to 2003, the Soviet Union and its major successor state, Russia, constructed the largest nuclear-powered navy in the world, more ships than all other navies combined: 248 submarines (91 attack submarines, 62 cruise missile submarines, 91 ballistic missile submarines and four research submarines), four Kirov class battlecruisers, and a missile test ship, as well as nine icebreakers. Many were or are powered by two reactors each, bringing the total to 468 reactors. With the end of the Cold War and with its navy chronically underfunded, Russia has decommissioned many of these vessels, and according to one report dated November 2008, intended to scrap all decommissioned submarines (more than 200) by 2012. However, the safety records of the Soviet and Russian navies and the budgetary constraints on the Russian government are matters of great concern. Ships awaiting decommissioning receive little maintenance, and there are insufficient waste storage facilities, raising worries about possible ecological damage from accidents or improper storage."
"The major issues are financial. In 1995, a Northern Fleet submarine based near Murmansk nearly suffered a nuclear meltdown when power was cut off due to unpaid electricity bills. Decommissioned vessels are often left in floating storage until funds can be allocated for their dismantling. As of November 2001, "up to 40% of the decommissioned submarines have been in floating storage without much maintenance for more than 10 years".
The situation has caused concern in other countries, such as the United States, United Kingdom, Japan and the Scandinavian countries, which have contributed funding and assistance. The Arctic Military Environmental Cooperation (AMEC) was a joint Norwegian, Russian, and American government consortium (later joined by the British) set up to deal with military environmental issues, mainly the dismantling of Russia's nuclear submarine fleet in Europe. After the "somewhat acrimonious dissolution" of AMEC, the Norwegian and British governments shared the £3.9 million cost of dismantling a November class submarine. Under AMEC's successor, Cooperative Threat Reduction, the British government financed the dismantling of two Oscar I submarines. The Nunn–Lugar Cooperative Threat Reduction Program has been responsible for the deactivation and destruction of many weapons, including 33 nuclear submarines. With the "Star of Hope" program, Japan has funded the dismantling of five Victor III and one Charlie I submarines in the Far East.
Security is also an issue. Russian sailors have been convicted and jailed for two 1993 thefts of highly enriched uranium from fuel rods. In 1994, Russian officials caught two North Korean agents trying to buy submarine dismantlement schedules."
"A Russian government report acknowledged in March 1993, that "during the period of 1965 to 1988 the Northern Fleet had dumped four reactor compartments with eight reactors (three containing damaged fuel) in the Abrosimov Gulf in 20 to 40 meters of water." Six other compartments, containing nine reactors in all, had also been dumped into the water in the 1960s and 1970s"
US re-establishes naval fleet in Atlantic amid increased Russia threat
Russia's Military Power (2017)
For decades, Russia's oil giants have been polluting parts of the country's once thriving landscape, often in secret, spilling oil onto the land and into the Arctic Ocean, poisoning the water and destroying the livelihood of local communities and Indigenous Peoples.
Russia's New Maritime Doctrine And Issues With The Surface Fleet
The Russian (((Bolshevik Revolution)))