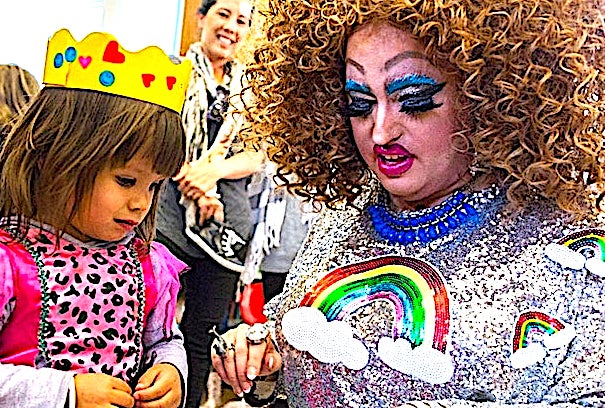 While the American Library Association is actively providing institutional support for the Drag Queen Story Hour programs, the tremendous funding it enjoys comes from a handful of very powerful jewish activists and charities:
"Drag Queen Story Time as a Concept was created by a Jewish lesbian named Michelle Tea (Tomasik) and RADAR Productions of San Francisco. RADAR productions is a Bay Area production company whose mission statement reads "RADAR is a Bay Area queer literary arts organization creating and supporting a community of queer artists through commissioning, developing and presenting ground-breaking literary work".
RADAR Productions is also instrumental in disseminating the program throughout the country.
RADAR is funded by a number of organizations, including The California Arts Council, The San Francisco Public Libraries, The Horizons Foundation, and notably The Walter and Elise Haas Foundation, and The Zellerbach Foundation.
The Walter and Elise Haas Foundation is a Bay Area "philanthropy" founded by Walter Haas. Walter Haas is the son of Jewish Bavarian immigrants, who married Elise Stern, daughter and niece of the founders of Levi Strauss Jeans. Haas is best known for being the President of Levi Strauss from 1928-1955, he is credited with saving and growing the brand. The Walter and Elise Haas Foundation focuses their energy and capital on 5 areas, according to their website, The Arts, Economic Security, Education, Jewish Life, and Net Safety. The site prominently features articles like "How the World Should Be: Jews, Social Justice and GLIDE" by Rabbi Michael Lezak.
The Zellerbach Family Foundation is the other Bay Area "philanthropic" organization that funds RADAR Productions and Drag Queen Story Hour. The Zellerbachs are a wealthy family of Jewish immigrants known for owning a huge paper and paper pulp conglomerate and enormous timber and land holdings in the Pacific Northwest.
They are credited with inventing the folded paper towel and windowed envelope and were the subject of a 1958 antitrust investigation by the U.S. Justice Dept. The Zellerbach corporation profited greatly during WWII when European paper companies were unable to export products to the United States. A Huge portion of The Zellerbach Family Foundations operating budget is also devoted to encouraging mass immigration and refugee resettlement.
The Zellerbach foundation has donated over $46 million dollars to date, and is devoted to "building vibrant communities" by supporting refugee and resettlement NGO's like The Tahirih Justice Center who have "served over 25,000 courageous individuals fleeing violence since 1997." Tahirih Justice Center Executive Director, Morgan Weibel states "without the critical support of the Zellerbach Family Foundation, Tahirih would be unable to continue its necessary work to support immigrants."
Read more here from Christians For Truth
The Frankfurt School and Critical Theory – Cultural Marxism