Patriotic symbols were sprayed on the walls of a restaurant in Syke, near Bremen, before it was set on fire. Police think that the owner's ethnicity might be part of the motivation for the attack.
Read more here from The Daily Archives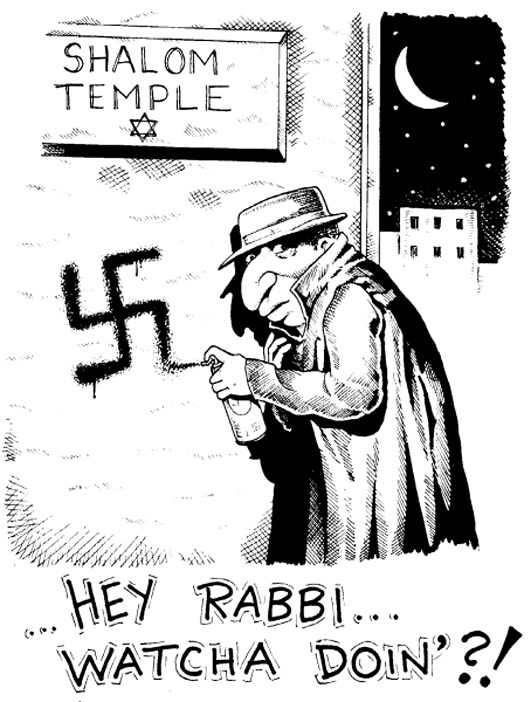 Migrant staged fake 'racist' attack by stabbing himself
Black "Anti-Hate Crimes" Democratic Party Activist Arrested for "Kill All Jews" Hoax Hate Crime.
Vandalism Culprit Caught! It's Not Who'd You Expect
Britain's Soviet Style Hate Crime Laws
A Very Worthy Cause: Support Glen Allen's Lawsuit against the SPLC
Jewish Hate Group SPLC Gets Boot from US Federal Government Partnership Programs
Domestic terrorist Floyd Corkins used the SPLC "hate map" to find & shoot up his target, the Family Research Council.
CNN Changed its SPLC Hate Group Story
17 campus hate crimes that turned out to be hoaxes
Fake News from the FBI—the 2017 Hate Crimes Report
Jew Convicted of Worldwide Bomb Threat Campaign Blamed on "White Racists"
Canada: "Worst Anti-Semitic Hate Crime" Turns Out to Be Jewish Hoax
Study Finds Online Antisemitic Harassment Against Jews Caused by Other Jews
NYC Mayor DeBlasio: "White People Attacking Jewish People"
The Hoax that won't die – How the World Jewish Congress invented the Holocaust
The Last Days of the "Holocaust"
The Holocaust: An Instrument of White Guilt
Buzzfeed's (((Joe Bernstein))) Keeps Job After Inciting Murder Of White Men
Jews Hold Racist Hate March Against Blacks in NYC
Nick Sandmann: The Truth in 15 Minutes