British authorities knew that a network of predominantly South Asian men was grooming vulnerable children in Manchester, but failed to act to stop dozens of girls from being abused — according to a damning new report released this week that details yet another Asian grooming scandal in the U.K.
The report is a harrowing look at how Greater Manchester Police and other local authorities failed to take appropriate action more than 15 years ago, despite getting details of nearly 100 "persons of interest" who were using takeout restaurants as a base to rape and abuse children in care between the ages of 11 and 17. It describes offenders as operating "in plain sight" and hanging around care homes and foster homes in cars as they preyed upon vulnerable children.
"There was clear evidence that professionals at the time were aware these young people were being sexually exploited, and that this was generally perpetrated by a group of older Asian men," the report says. "There was significant information known at the time about their names, their locations and telephone numbers but the available evidence was not used to pursue offenders."
In that scandal, about 80 percent of the suspects were of South Asian Muslim backgrounds. Similar gangs have been exposed in Newcastle, Bradford, and Rochdale. The report found that there was a belief that the abuse was ignored by authorities due to a fear of fueling racists.
"Several councillors interviewed believed that by opening up these issues they could be 'giving oxygen' to racist perspectives that might in turn attract extremist political groups and threaten community cohesion," the Rotherham report said.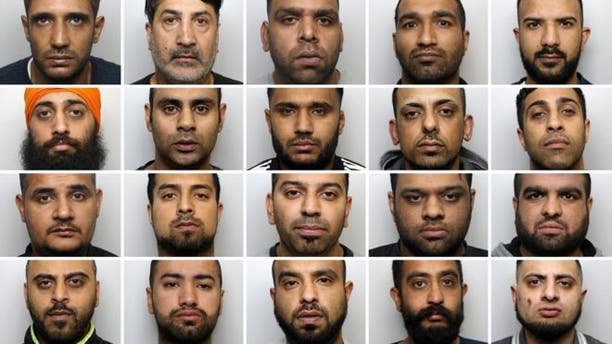 Twenty men, including ring leader Amere Singh Dhaliwal (first in the second row), were found guilty of raping and abusing more than a dozen teenage girls in the U.K. This case stemmed from a sexual exploitation case out of the northern city of Huddersfield in 2018. (West Yorkshire Police).
Read more here at Fox News
I start with the assistance the Government are giving to the victims of grooming gangs in Rotherham and elsewhere. The noble Baroness suggested that this could be as low as an average of £48 per victim, but a Written Answer to me—HL12518—on 20 December 2018 points to a much lower figure, because £4.7 million of the £12 million mentioned by the noble Baroness was a one-off payment. Therefore, the basic support seems to be running at some £7.2 million per annum, and that is for the victims of all sexual abuse, not just for the 250,000 victims of radical Muslim grooming gangs, which in itself is probably an underestimate.
Lord Pearson of Rannoch (UKIP)
Child sexual exploitation occurs in many places. Some estimate that grooming gangs operate in 73 towns, from Plymouth to Liverpool, from Cambridge to Glasgow. However, there is currently no single dataset that distinguishes between "grooming gang offences" and other forms of child sexual abuse, many of which occur in families and are unreported. This means that specific statistics are difficult to ascertain.
Baroness Cox (CB)
Source: Hansard (UK Parliament)
In 2018-19, Rape Crisis Centres provided 732,184 sessions of specialist support, including advocacy, emotional support and counselling. This was an increase of 9% from 2017-18.
Source: Rape Crisis
From Wikipedia, so take it with a grain of salt.
The Rotherham child sexual exploitation scandal consisted of the organised child sexual abuse that occurred in the northern English town of Rotherham, South Yorkshire, from the late 1980s until the 2010s and the failure of local authorities to act on reports of the abuse throughout most of that period.
Child sexual abuse of an estimated 1,400 (1997–2013, according to the Jay report) aged approx. 11–16
Read more here at Wikipedia
Paedophile jailed after being found with a locked cabinet of child-sized bras he kept as 'trophies'
How the British Police Protect Child Rapists
Child rapist's head shoved down filthy toilet by other inmates
Sex monster refugee, 40, who broke into a 76-year-old pensioner's home and raped her is jailed for 17 years – but his victim has already died.
UK: An immigrant raped more than 190 people
'Nearly 19,000 children' sexually groomed in England in the past year
UK: 12-Year-Old Girl "Passed Around Like a Piece of Meat" by Middle Eastern Rape Gang
Girl Raped by 500 Men is Prosecuted by the Police
"British" Pedophile Sentenced to 10 Years for Sex Attack on 14-Month-Old Girl
Israel runs UK child abuse rings: 40 Friends of Israel who made the unthinkable real
Laundryman who raped dementia sufferer at care home was only caught when he left used condom behind.
Instagram prowler, 28, who lured two girls, 11 and 13, to meet him using app is jailed for more than two years – as police fear he may have more victims.
3 YEARS for a sexual predator who carried out sex attacks against women for over 20 years!
Pervert, 27, who sexually assaulted victims as young as 14 in a series of attacks on teenage girls on London buses is jailed for TWO years.
Taxi driver and father of three, 42, who raped and sexually assaulted four women passengers including some who were 'drunk and defenceless' after nights out is jailed for 14 years.
Britain: At Least 20,000 White Girls Raped by Moslem Grooming Gangs
Child forced to have an abortion after being 'gang raped in a forest by Rotherham sex gang'.
Boy, 17, raped in broad daylight by Dindu near city centre car park
Joel Ampadu jailed for raping three young girls in four years
Gamer, 33, who used his PlayStation and Xbox to groom a five-year-old boy he went on to rape up to 100 times is jailed for 21 years.
UK: Nagger Raped 13-Year-Old Schoolgirl
Beast who grabbed schoolgirl, 13, off the street and filmed himself raping her is jailed for 11 years.
Nurse jailed for raping patient at east London hospital
Married City worker jailed for raping drunk teenage clubber after dragging her to filthy alleyway.
Smirking after gang raping a teenage girl: Sickening trio laugh off brutal park attack on helpless 19-year-old student they lured from a night club and dumped in a street – as judge jails them for 27 years.
Fake cab driver who raped a woman in his car after becoming addicted to porn showing girls having sex in taxis to pay their fare is jailed for 12 years.
Asian sex gang of eight 'predatory' men who abused girls as young as 13 in a 's*** wagon' with the number plate ending 'SHG' are jailed for a total of almost 90 YEARS.
Two Sudanese asylum seekers who raped a young mother within four weeks of arriving in the UK have been jailed for a total of 10-and-a-half years.
Savage who pretended to be taxi driver to trap and rape woman jailed.
Gangsters who met girl, 19, online then kidnapped her and forced her to become their drugs mule are jailed for total of 19 years for human trafficking in UK legal first.
UK: 1,200 cases of forced marriage annually — one involving a two-year-old child.
MUSLIM SOMALI SEX GANG SAY RAPING WHITE BRITISH CHILDREN "PART OF THEIR CULTURE"
'Wicked' sex predator who killed barmaid in sustained and sadistic attack in London park as she walked home from work on Christmas Eve is jailed for 29 years.
The ring leader of the Telford grooming scandal was sentenced to 22 years in prison. He served less than 5 years before he was released by the liberal establishment. Is this justice?
Escaped sex offender Oluseun Michael Olaifa 'risk to girls'
'Depraved' sex offender raped child after befriending her on Facebook – just months after getting out of jail.
Twelve more Telford sex abuse victims come forward while MP says she has been 'inundated' with reports since speaking about scandal in Parliament.
Britain's 'worst ever' child grooming scandal exposed: Hundreds of young girls raped, beaten, sold for sex and some even KILLED.
Teenage girl 'raped by a gang of "Asian" men during two-year ordeal was finally treated as a victim when her boyfriend phoned TV news studio after she saw report on Rotherham abuse scandal'.
Rotherham sex abuse scandal grows as police ID 110 'designated suspects' who they fear abused more than 1,500 children aged mainly 11-18.
Rotherham: Child Services Boss Denies Race Was a Factor in Grooming Gang Scandal.