Germany and France agreed to support a 500 billion-euro ($543 billion) fund, backed by debt, to help the European Union weather the worst recession in living memory.

German Chancellor Angela Merkel and French President Emmanuel Macron proposed a plan to distribute the money to member states, with payments based on contributions to the bloc's budget.

The leaders of the EU's two biggest economies appeared together in a show of unity on Monday in an effort to bridge deep divisions over the recovery fund, the key tool to help stricken countries bounce back from the coronavirus pandemic.

"When Germany and France take the initiative, then this encourages the opinion-making process across the EU," Merkel said after a video conference with Macron. "We will have to act European in order to get well out of this crisis," which she called "biggest challenge in the history of the EU."
Even as Germany and France find common ground, the world's largest trading bloc is far from reaching an agreement over a package, which still requires backing from the 27 member states. An official in Vienna said the Austrian government remains opposed to any kind of handouts and wants aid to be disbursed as loans.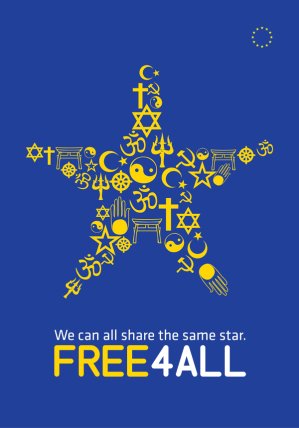 The biggest obstacles haven't been the German and French positions, but bridging differences between richer and poorer nations. On the one side, there's the push led by Spain and Italy for more grants and common borrowing, while on the other side, the Netherlands, Sweden and Denmark want more loans to limit the risk of getting stuck paying the bill.
Which Countries Are the Biggest Boost or Drag on the EU Budget?
Net contributors to the EU budget
The vast differences in resources was brought into focus after the EU said that Germany accounts for more than half of state aid approved to counter the pandemic's economic fallout.
Source: Bloomberg
A 1994 view on "the incumbent poor four" and "the eastern enlargement".
Not Poland's cash cow: EU blasts Warsaw over lack of 'contribution' to Europe
Poland is the country where most immigrants come from in UK, Ireland, Iceland, Norway, Denmark and number two in Germany.
East Germans are not Eastern Europeans
The Partition of Belgium – Germanic vs Non-Germanic
Western European Immigrants vs Eastern European Immigrants
There is a stark contrast between Western and Eastern Europeans. – Those from Eastern Europe received more in welfare than the average UK citizen — and paid less income tax.
Nearly One in Four Germans Now Come from a Migration Background
Germany: New Official Figures Show 3.12 Million "Asylum Seekers" and that the population of Germany as of end December 2018 stood at 83 million, of which at least 25 percent had a "migration background".
Stolen Land – Oder–Neisse line