I enjoyed making "WWII – Where did the Germans live? in Denmark".
As I was blogging about German castles I noticed an old post about Schloss Rheydt, former residence of Dr. Joseph Paul Goebbels. 
And thought about where else he lived.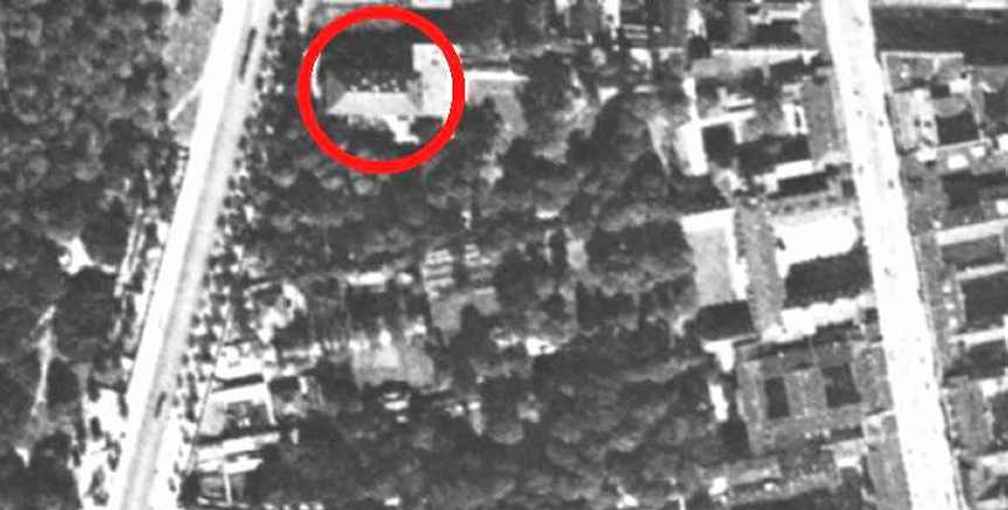 Villa Goebbels, Behrenstraße, Berlin
Source: Dines Bogø
Goebbel's Berlin villa behind the wall to right (largely obscured by trees). The construction on Herman Goering Strasse (todays Ebertstrasse) is for a new S-Bahn line (c.1933–35). The large building left of center was the old pre-war U.S. embassy (Blucher Palace) and also the site of today's embassy. The Brandenburg Gate is visible at far left.
Source: Quora
History weighs heavily on the German property market, no more so than at a sprawling lakeside villa that once served as a love nest for Propaganda Minister Joseph Goebbels.
Bogensee is a small lake near Wandlitz in the German state of Brandenburg, located about 15 kilometres (9.3 mi) north of the Berlin city limits.
Bogensee is known for the nearby former summer retreat of NS minister Joseph Goebbels, located approximately 500 m (1,600 ft) northwest of the shore. The premises were dedicated to Goebbels by the Berlin city administration on the occasion of his 39th birthday in 1936; he had an extended country home erected at the site until 1939, including a private cinema, a bunker, and adjacent SS barracks. Co-financed by the UFA film company, the building became a popular venue for movie actors like Zarah Leander, Emil Jannings, or Heinz Rühmann.
Temporarily seized by the Soviet Military Administration after World War II, the former country house was included into the newly established academy of the East German Free German Youth (FDJ) association. A wide building complex was erected from 1951 onwards, according to plans designed by Hermann Henselmann in a Stalinist style. Since German reunification in 1990, most of the buildings have been empty. As of 2018, the property had remained unoccupied for two decades. 
Berlin authorities are unsure what to do with the rumoured love pad after attempts to sell it have proved unsuccessful while some experts argue that it should be demolished.
Known as the 'Haus am Bogensee', the lakeside residence has 70 rooms.
Schloss Rheydt, former residence of Dr. Joseph Paul Goebbels.
Schloss Rheydt is a Renaissance palace in Rheydt, Mönchengladbach, North Rhine-Westphalia, Germany. Over the years the building has been the family seat of various noble families, including the Bylandt-Rheydt dynasty that ruled over Rheydt for over 300 years and gave the palace its present look
"Then we stand in front of Odenkirchener Straße 202, the birthplace of Joseph Goebbels – which for a long time was not in the public eye until Gregor Schneider bought it, gutted it and removed the traces of his past."
Source: Spitzen Rheydterin
"The city archives had asked me to photograph the two Goebbels houses – the real occasion of the walk and a nice excuse to do just that. Joseph Goebbels lived in his youth at 156 Dahlener Straße (formerly 140) and there he later visited his mother, cheered by many people on the side of the road."
Source: Spitzen Rheydterin
Paul Joseph Goebbels was born on 29 October 1897 in Rheydt, an industrial town south of Mönchengladbach near Düsseldorf. Both of his parents were Roman Catholics with modest family backgrounds. His father Fritz was a German factory clerk; his mother Katharina (née Odenhausen) was born to Dutch and German parents in the Netherlands.Goebbels had five siblings: Konrad (1893–1947), Hans (1895–1949), Maria (1896–1896), Elisabeth (1901–1915), and Maria (1910–1949), who married the German filmmaker Max W. Kimmich in 1938. In 1932, Goebbels published a pamphlet of his family tree to refute the rumours that his grandmother was of Jewish ancestry.
–
Dr. Goebbels' Forgotten Villa – The Last Intact National Socialist leaders' House
Rathaus Rheydt & Schloss Rheydt
–
Castles in North Rhine-Westphalia
German Castles
–
Read about WWII here