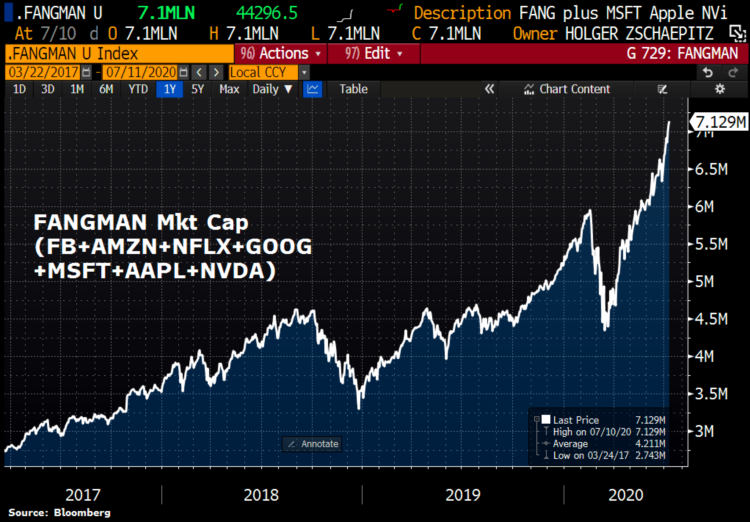 The Economic Times predicts that these companies will continue to "dominate the world" despite Covid-19 disruptions, as the combined market cap of the seven FANGMAN stocks has rallied 24% so far this year — which is more than the GDP of several countries including Japan ($5.15tn), Germany ($3.86tn), India ($2.94tn) or the UK ($2.83tn). The total market cap of all 3,000 stocks that are traded on India's main stock exchange on Thursday was $1.8 trillion — whereas Apple alone commanded a market cap of $ 1.5 trillion.
"World's most valuable company" Apple currently trades at 28 times its earnings whereas Microsoft, Google, and Facebook are currently trading at between 30 and 35 price-to-earnings ratios. Some analysts see this as a bubble ready to burst, whereas others point out the nearly monopolistic and quasi-governmental character of some of the FANGMAN companies and suggest that the bubble will "not be allowed to burst."
That mammoth market cap gives these corporations enormous financial power to buy stakes in other assets. Facebook last month had invested $5.7 billion in Jio Platform while Google is looking to buy a stake in Vodafone Idea and Amazon in Bharti Airtel. A billion-dollar acquisition is a commonplace month-to-month event. Do you think they cannot also buy legislators? According to The Print, all except Nvidia (so far) had made some sort of public statement in support of Black Lives Matter as of June, and their consistent support of open borders, globalism, and the demonization of racially conscious Whites is long established.
Read more here at National Vanguard