From Wikipedia, so take it with a grain of salt.
Orania (Afrikaans pronunciation: [ʊəˈrɑːnia]) is an Afrikaner town in South Africa located along the Orange River in the Karoo region of the Northern Cape province. The town is split in two halves by the R369 road and lies halfway between Cape Town and Pretoria.  
The stated aim of the town is to create a stronghold for Afrikaans and the Afrikaner identity by keeping their language and culture alive. Anyone who defines themselves as an Afrikaner and identifies with Afrikaner ethnicity is welcome to live in Orania. 
Critics accuse the town authorities of rejecting the Rainbow Nation concept and trying to recreate pre-democratic South Africa within an enclave, while residents contend the desire to preserve their linguistic and cultural heritage and protect themselves from high crime levels as their motivation, claiming the right to self-determination as provided by the Constitution of South Africa. The town's relations with the South African government are non-confrontational, and although opposed to the aspirations of the community, it has recognised them as legitimate. 
The small community has a radio station and its own currency, the Ora. The Seattle Times reported a population of 1,600 in July 2018. More than 100 businesses are located in Orania as of 2013. Due to its unusual nature, the town is often visited by journalists and documentary-makers. 
Ideology and purpose
According to its founders, the purpose of Orania is to create a town where the preservation of Afrikanerdom's cultural heritage is strictly observed and Afrikaner selfwerksaamheid ("self reliance") is an actual practice, not just an idea. All jobs, from management to manual labour, are filled only by Afrikaners; non-Afrikaner workers are not permitted to work unless they have skills no resident has. 
Newcomers often say their desire to escape the violent crime prevalent in the rest of the country motivated their decision to move to Orania, and many had been victims of crimes before, while Orania residents claim the town is a secure environment and they have no need to lock their doors.
Map of Orania, showing the private entities owning the town's territory.
Territorial extension 
The town's territory originally covered 300 hectares (740 acres), and was expanded through a number of land acquisitions. 
In August 1991 the 2,300 hectares (5,700 acres) farm Vluytjeskraal 272 was added to Orania. It was divided into smaller farmsteads, and now grows pecan nuts, olives and fruit. 
Kambro Landbou Koöperatief is a legal entity established to buy land on Orania's behalf. In 2004-2005, the purchase of two farms located 20 kilometres (12 mi) south of Orania, Nooitgedacht and Biesiebult, added 4,000 hectares (9,900 acres) to the town's territory. Biesiebult is a pasture, covering 2,300 hectares (5,700 acres), and is used as grazing land for cattle. Nooitgedacht is a riverfront farm, located between Orania and Vanderkloof. It is used mostly for agriculture, with a smaller built-up area along the river bank. Kambro also own a 380 hectares (940 acres) farm west of Orania. The Masada farmhouse opposite Orania, about 150 hectares (370 acres), was bought and proclaimed as an eco-park. 
Farm Vluytjeskraal Noord was bought by a group of Orania residents in 2011. Vygiesvlakte is a 2,600 hectares (6,400 acres) farm on the West Coast, near Groenriviermond. It was purchased around 2012. After the Vluytjeskraal Noord purchase, the town administration decided that developing the infrastructure of existing land should be the priority, though new land acquisitions were not ruled out. 
Legal framework
Although Orania lies within the borders of the Thembelihle municipal area, it is not an administrative part of the Thembelihle Local Municipality. Orania maintains its own municipal administration, while Thembelihle provides no services (such as sewerage, roads, rubbish collection) to Orania, and collects no rates from the town (other taxes are paid normally). In 2011, town rates for residents were between R1,500 and 2,000 per month. 
The town's existence is permitted by the Constitution of South Africa under a clause that allows for the right to self-determination. Orania has a non-confrontational attitude towards South African authorities, which have likewise adopted a non-interference policy towards Orania. The ANC government mostly avoids the issue of Orania and its status, as it is seen as less important than many other political issues the party faces.
Private company 
The town is privately owned by the Vluytjeskraal Aandeleblok company (VAB, Vluytjiekraal Share Block). Ownership of plots and houses is in the form of shares in the company, according to a framework known as 'share block' under South African law, similar to the strata title or condominium in other countries. No title deeds are provided, except for agricultural land. Share blocks are linked to portions of the company's real estate property, and the shareholder acquires the right to use property linked to their share block.
A general meeting of shareholders is held every year. The shareholders, numbering about 400 as of 2017, vote for the company's board of directors. The eight people on the board of directors form the village council (Dorpsraad). The board of directors elects a chairperson, who serves as the town's mayor, and an executive officer who is responsible for the daily administration of the town. Other members of the board are given responsibility for community matters such as safety, planning and community services.
Parts of the community are critical of the share block arrangement, as it offers no effective representation to people who rent their house, and thus are not shareholders in the company. Even shareholding residents feel they have only a limited say in the management of Orania.
Vluytjeskraal functions like a municipal administration, being funded by rates and delivering services like water, electricity and waste management. Utility companies like Eskom and Telkom provide services to this private entity, which then splits the costs and charges the end users. The budget for the fiscal year 2006/2007 was R2.45 million. Harry Theron is the company chairman as of 2018; Frans de Klerk is the chief executive officer.
Kambrolandskap Koöperatief is a separate legal entity acquiring land on Orania's behalf. It owns land plots in share blocks, just like Vluytjeskraal Aandeleblok.
Democratic institutions
The Orania Verteenwoordige Raad (OVR, Orania Representative Council) is an elected institution, tasked with handling Orania's political interests in negotiations on the provincial and national levels. It is the last transitional representative council extant in South Africa. The Representative Council is elected by all residents, including those who own no shares in the company.
Orania has its own municipal structure in the form of the Orania Representative Council based on the Local Government Transition Act of 1993, where other municipalities are based on the Municipal Structures Act of 1998. This legal framework was laid down in 2000 when an agreement between the Cabinet of South Africa, the Northern Cape government and the Orania Representative Council was reached about a provisional status for Orania. This agreement was confirmed by a ruling of the Northern Cape High Court.
Orania residents are eligible to vote in the Thembelihle municipal elections, but few choose to do so.
Politics and administration
Orania receives no fiscal contributions from either state or provincial government.
The Helpsaam Fund, a non-profit institution, raises money for projects like subsidised housing for newcomers in need. The Elim Centre accommodates unemployed young men who come to Orania seeking employment. Most are destitute when they arrive. They are usually given work with the municipality or local farms, and provided with training. Nerina, the equivalent residential complex for women, was completed in July 2012.
The Orania Beweging (Orania Movement) is a local political and cultural organisation that promotes Afrikaner history and culture. The Orania Movement has around 3,800 registered supporters from outside town.
Orania has a small clinic, and a government-funded nurse visits twice a month. The town has two airstrips, one 1,300 metres (4,300 ft) and the other 1,000 metres (3,300 ft). 
Since 1994, citizens of Orania have voted in the six national elections. Over the last three elections, Orania had an average vote turnout of 65%, based on registered voters. In the South African general elections in 2004, 2009, and 2014, the community voted decisively for the Freedom Front Plus party. The four votes recorded for the Economic Freedom Fighters party in the 2014 election elicited a number of comments from South African media.
Town authorities have a strong focus on green practices, including recycling and conservation. Solar geysers are a requirement for all new houses built in Orania. In 2014 Orania opened its bicycle sharing system, called the Orania Openbare Fietsprojek (Orania Public Bicycle Project).
The Boshoff family are regarded as the 'political elite' of Orania. They are generally seen as being relatively more liberal than most of the town's other residents.
Law enforcement
The town has neither a police force nor a prison. Traffic monitoring and minor crimes such as petty theft are handled internally. Volunteers carry out neighbourhood watch patrols. In October 2014 Orania Veiligheid (Orania Security) was established, to handle reports of illegal activities such as drug dealing or car theft, but also more trivial matters such as littering and noise complaints. Apprehended suspects are taken to the police station in neighbouring Hopetown. Residents are exhorted to use mediation and arbitration procedures made available by the town council, rather than resorting to South African courts.
Residents perceive Orania as being safe. To maintain the picture that all is well in the community, police from Hopetown are only called in as a last resort. Local media reported on multiple cases of child abuse committed by an elderly Orania resident which went undetected for years. Town authorities were also criticized for failing to act on reports of assault and abuse against a three-year-old girl who was later murdered by her parents. The abuse was not reported to the police, as residents were afraid of being expelled for filing a report.
On 16 September 2019 the SAPS's Child Protection Unit visited the Volkskool Orania school to investigate a case of child molestation against a student teacher. The teacher appeared before the Hopetown Magistrate's Court on a charge of statutory rape. 
Application process 
Prospective residents are required to go through an interview process with a committee, which may deny access to people based on criteria such as criminal records. Once permission is granted, the new residents become members of the community, either as shareholders if they buy property, or as tenants. 
Being an Afrikaner is the most important criterion for admission. Although there are news sources that claim that black or coloured people are not allowed to live in Orania, the town's spokesman insists that there are no rules against admitting them as residents. Though the community is not supportive of same-sex relationships, some gay people do live in Orania. 
Some people who try to live in Orania leave due to the limited choice of available jobs or the requirement to conform to local social norms. According to a 2004 study, 250 people had left Orania since its establishment in 1991, most of them due to "physical and social pressure". The difference in lifestyle compared to an urban environment is another factor that negatively impacts newcomers.
Economy 
More than 100 businesses are located in Orania as of 2013. Economic services provided in the town include a call centre, stockbroking and architecture. The community's annual turnover in 2011 was R48 million. The average wage in Orania was estimated at approximately R4,000 ($590) per month in 2007, low by white South African standards. The lack of cheap black labour means that living expenses in Orania are twice as high as in the rest of South Africa; at the same time, unskilled workers are scarce. In 2015, a visiting journalist estimated the poverty rate at 70–80%. 
In Orania people from all levels of society perform their own manual labour. Local Afrikaners also work in unskilled positions such as gardening and waste collection. In 2009, 14% of the population was self-employed. Rapid growth over the four years to 2014 led to the construction of new commercial developments and a rising number of young adult immigrants, but also caused an increase in class differences between residents.
Orania's tourism industry is showing rapid development with the completion of a luxury river spa and boutique hotel complex in 2009. Orania Toere (Orania Tours), Orania's first registered tour operator, was also launched in 2009. In 2010 thirteen independent hospitality businesses operated in Orania, including a caravan park, self-catering flats, rooms, hotel and guest-houses. From October 2012 to February 2013, about 2,000 holidaymakers visited the town.
The Orania Chamber of Commerce was established in 2001. The Orania Spaar- en Kredietkoöperatief (Orania Savings and Credit Co-operative) is a local cooperative bank. It registered with the South African Reserve Bank in 2011, and in 2013 it had R45 million in savings deposits.
During April 2004, Orania launched its own monetary system, called the Ora, based on the idea of discount shopping vouchers. Orania launched its own chequebook in 2007. The enclave is currently working to introduce the e-Ora, a digital version of the currency that is currently in circulation.
Previously, a permit was required to start new businesses in town, which was only granted if the new business did not compete with existing ones. The permit system proved unworkable, causing dissatisfaction among the residents, and was abolished.
Water pumping station on the Orange River, Orania
Agriculture
Farming is an important part of Orania's economy, the most prominent project being a massive pecan nut plantation, one of the largest in South Africa. The plantation is said to have given Orania a substantial economic boost. Most of the agricultural production is exported to China. Since purchasing the 430-hectare (1,100-acre) town, the community has added 7,000 hectares (17,000 acres) of agricultural land to it. A pumping station on the Orange River, financed and built by the town's residents, provides water for agricultural use. The station is connected to a 9-kilometre (5.6 mi) pipeline.
A R9 million dairy farm, the Bo-Karoo Suiwel, operated in Orania from 1998 to 2002. Though deemed one of the most modern dairies in South Africa at the time, the increased cost of imported machinery caused by a decline in value of the rand combined with a rise in the price of corn used to feed cattle led to its liquidation. Another ambitious project, a mill processing a range of corn products, was completed in 2005, but also proved unsuccessful and was closed down. The Orania management has since mostly eschewed large-scale projects, rather focussing on small- and micro-enterprises to develop the local economy.
Construction 
The construction industry is an important element of the local economy. Orania counts 8 construction companies as of 2017. Property prices in 2010 ranged from R250,000 at the low-end, up to R900,000 for new riverfront property. Average house prices in Orania have grown by 13.9% a year from 1992 to 2006.
The shortage of affordable housing is a significant problem in Orania. Given the relatively low local wages, even two mid-range salaries might not be enough to buy a house. Outside investors, who can afford to pay more using savings from previous employment outside Orania, inflate housing prices. While buildings from the Water Works era can rely on pre-existing utility connections, new builds face the additional cost of installing infrastructure, raising prices further.
In 2013, the Sonskip / Aardskip earthship living museum construction started in Orania, designed by Christiaan van Zyl, one of South Africa's foremost experts on sustainable architecture. The building is open to the public as a living museum; it is the largest earthbag earthship in the world.
Culture 
Cultural institutions include the Orania Kunsteraad met orkes en koor (arts council with orchestra and choir) and the Orania Kultuurhistoriese museum (cultural history museum). Exhibits housed in the museum include the Felix Lategan gun collection and a Vierkleur flag carried by Jopie Fourie. A collection of busts of Afrikaner leaders, sourced from institutions that no longer wanted them after the end of apartheid, sits on a 'monument hill' outside town. There is also a Verwoerd museum, where items and photos of Hendrik Verwoerd are on display. It was the house where his widow lived from 1992 until her death at the age of 98 years in 2000.
The Koeksistermonument, erected in 2003, celebrates the women who baked and sold koeksisters to collect money for charity and is one of the town's tourist attractions. The town also houses the Irish Volunteer Monument, dedicated to the Irish soldiers who fought on the Boer side during the Boer War (see Boer foreign volunteers). Jan van Wijk, who also created the Afrikaans Language Monument in Paarl, designed the monument. It was moved from Brixton, Gauteng in 2002 by a group of Afrikaners concerned by its imminent demolition.
Orania has a mascot named Klein Reus (small giant), a small boy shown rolling up his sleeves. The symbol is used for the town's flag, its currency and merchandise. Traditional Afrikaner cultural activities such as volkspele dances and games of jukskei are promoted within the community. Karoo-style food such as skaapkop (sheep's head) is part of the local culinary heritage.
Like most white South Africans, Orania residents are rugby fans. The town has a rugby team, the Orania Rebelle, playing in the Griqualand West Rugby Union.
The Orania Karnaval (formerly Volkstaatskou) is the main cultural event in town. Held annually since April 2000, it features exhibitions, competitions and concerts from local and national Afrikaner artists, with food stalls offering traditional Afrikaner treats. The Ora currency and the Kleinreus flag were both introduced during the celebrations. 
Younger residents occasionally complain of a lack of recreational activities, a concern common to many small communities. Orania, a farming town, offers few amusements to teenagers and young adults, who miss the entertainment offered by city life. Things improved considerably with the opening in 2014 of the Ou Karooplaas shopping centre, which also houses a cinema, pizza parlor and DVD shop; and the Stokkiesdraai Adventure Park, which also has a pub and coffee shop.
Education 
The Orania Koördinerende Onderwysraad supervises all educational activities in Orania. Orania's schools have consistently achieved a 100% matric pass rate since 1991.
There are two schools, the CVO Skool Orania (Christelike Volks-Onderwys or Christian People's Education) and Volkskool Orania (Orania People's School). Afrikaans is the language of instruction, while English is taught as a second language. Both schools follow the IEB curriculum; the CVO school offers a more conservative education, while the Volkskool is relatively more progressive.
The CVO-school, established in January 1993, is run along conventional lines; enrolment in 2014 was 225 students, with some coming from neighbouring towns. The CVO School includes Christian tenets as a vital part of the education, and is part of the Beweging vir Christelik Volkseie Onderwys, a network of similarly minded schools across the country. As a Reformed Christian school, its teachings are in accordance with the Canons of Dort. 
The Volkskool, established in June 1991 with Julian Visser as its first principal, uses a self-driven teaching (selfgedrewe) system which is unorthodox by South African standards. Because the town had few school-aged children when it was established, the school adopted a computer-based learning system that allowed students of different levels to be taught by a single teacher. The Volkskool's e-learning system was seen as innovative and received attention from South African media in the early 2000s.
There is a rivalry between the schools, which is generally friendly but can occasionally become quite fierce. Not all local children attend them, as some parents choose homeschooling or boarding schools in cities such as Bloemfontein.
A vocational training school, offering courses in technical subjects such as welding, metalworking and engineering, was opened in 2017.
Media 
The Independent Communications Authority of South Africa (ICASA) shut down the first local community radio, Radio Club 100, in November 2005 for broadcasting without a licence and being a "racist-based station". The station's management contended they had repeatedly applied for a licence and were merely carrying out tests, and that they broadcast harmless news about birthdays and social events. ICASA granted a licence to the new Radio Orania in December 2007, and the station began broadcasting on 13 April 2008 on 95.5 MHz. The community station is run by volunteers and counts over 50 contributors. Programmes include readings of Afrikaans literature such as Mikro's Die ruiter in die nag.
Dorpnuus, the town hall's newsletter, was launched in November 2005 and reports on local events and meetings of the town council. Volkstater is an independent local publication that is sent to supporters of the volkstaat idea, mostly non-residents of Orania. and deals with local events and Afrikaner history. Voorgrond, a publication of the Orania Beweging, is aimed primarily at non-residents who support the movement.
Works about Orania 
The unusual and controversial nature of Orania has drawn the interest of researchers, especially in the field of anthropology. Kotze (2003) examines Orania as a case of a non-declining small town in South Africa. Steyn (2004) elaborates on the town's bottom-up approach to development. De Beer (2006) considers the achievements of Orania, deeming it unlikely that it will ever succeed in bringing about self-determination. Terisa Pienaar analyzed the volkstaat concept, and the suitability of Orania as a growth point for a volkstaat. Lindi Todd included Orania in a study on how the Afrikaner identity developed after the end of apartheid. Liesel Blomerus focused on the identity of Afrikaner women in the town. Lise Hagen addressed the concepts of space and place in Orania. South African economist Dawie Roodt described the town as being "like a Petri dish" for economic research. 
In September 2012, a German documentary film titled Orania premiered at London's Raindance Film Festival. The film is a sociological study of the town. The town was also featured in a 2009 documentary produced by France Ô, Orania, citadelle blanche en Afrique and in a 2018 documentary produced by Lauren Southern, Farmlands.
Read more here at Wikipedia
Jan Lamprecht: What's Happening In South Africa?
Balmoral, Mpumalanga (Wikipedia)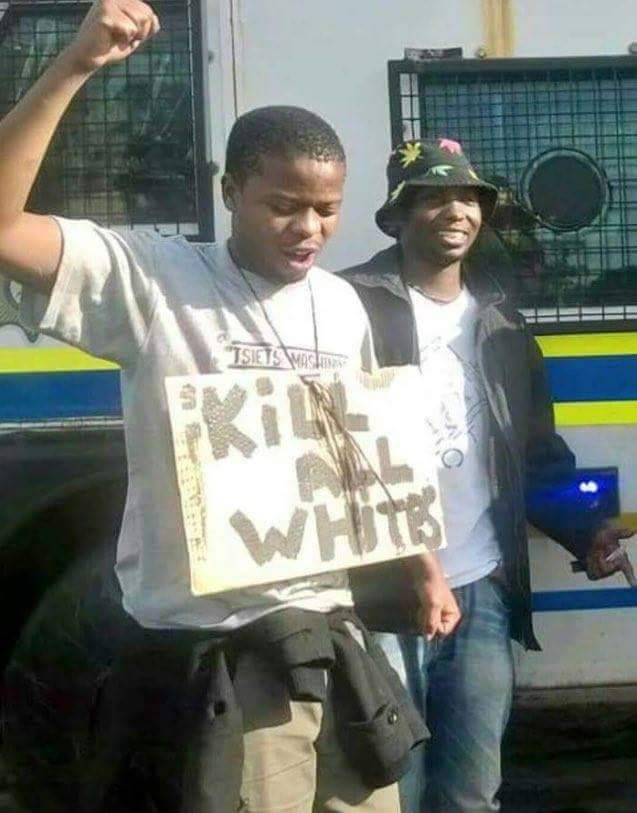 About South Africa