NS Film Theory, a Hermeneutic of Film Analysis
During the moral panic of the 1980s, that was manifested as a reaction to the manifold horrors of the sexual revolution which had taken place during the 1960s and 1970s, much ado was made about the influence of visual media on the actions and behaviors of the general populace; especially it's younger members.
Read more here at The Mannerbund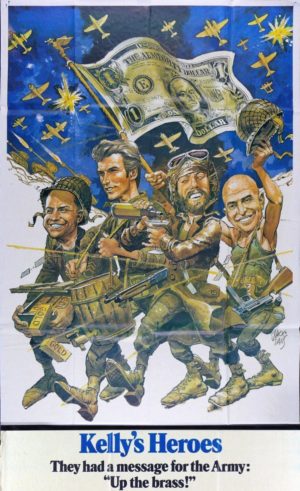 Kelly's Heroes: The Golden Side of WW2
On the surface, the 1970 film Kelly's Heroes seems like a fairly routine Hollywood "war" movie with many standard tropes of the Allies' court history. There are funny, relatable and colorfully characterized US Army soldiers; there's a load of action and pyrotechnics, which were top-level stuff for their time; and, of course, there's heaps of faceless corpses supplied by an inexplicably inept Wehrmacht. The film was made with the help of Communist Yugoslavia, thus there's really no surprises with that last part.
Read more here at National Vanguard
Everything you need to know about Hollywood and why you should boycott it
Black Pilled's Movie Analysis:
Free Falling (Falling Down)
How Boomers Were Taught to Hate (Themselves) (Norma Rae)
The Nature of Power (Gangs of New York)
The Great Boomer Deception (Pleasantville)
Sacrifice Rules (The Cider House Rules)
A Box of Chocolates (Forrest Gump)
Nice Until We're Not (Office Space)
Pawnbreaking Our Culture (The Pawnbroker)
Devotion to the Exotic (The Beach)
The Rise of Colossus (Colossus: The Forbin Project)
Soap Operas that Wash Your Mind (The Handmaid's Tale – TV series)
The Benefits of No Attachments (No Strings Attached and Friends with Benefits)
The Tale of Two Time Machines (1960 and 2002 films)
We Promise, You're Unhappy (The Stepford Wives)
The Cure for Gentlemen (Gentleman's Agreement)
Stand Still (The Day the Earth Stood Still 1951 and 2008)
The King of Joker Driver (Taxi Driver, The King of Comedy and Joker)
The Man Who Saved Europe (The House of Rothschild)
I'm With Stupid (Idiocracy)
Mr. Smith Gets Blackpilled (Mr. Smith Goes to Washington)
The Future is Black (and Female) (Children of Men)