Video on BitChute (no pictures, ofcause).
I read the files on Hunter Biden's laptop. They paint a sleazy picture of multi-million dollar wire transfers, potential money laundering, and possible tax evasion. They raise serious questions about the judgment and propriety of Jim Biden, the president-elect's brother, and Joe himself. Call it smoke not fire, but smoke that should not be ignored. The files were supplied to TAC by a known source previously established to have access.
Joe Biden is lucky a coordinated media effort kept Hunter out of the campaign. The FBI has had the laptop since 2019, when they subpoenaed the files in connection with a money laundering investigation. Federal investigators also served a round of subpoenas on December 8, a month after the election, including one for Hunter Biden himself. While the legal thrust of the investigation by the federal prosecutor in Delaware is taxes, the real focus seems to be on Hunter's Chinese connections. This all comes after the FBI has had over a year to examine some of the same files TAC looked at.
In the final weeks before the election, Hunter's laptop fell into Republican hands. The story went public in the New York Post, revealing that Hunter Biden introduced his father, then vice president, to a top executive at Ukrainian energy firm Burisma less than a year before the elder Biden pressured government officials in Ukraine into firing a prosecutor who was investigating the company. The meeting is mentioned in a message of appreciation that Vadym Pozharskyi, an adviser to the board of Burisma, sent Hunter Biden about a year after Hunter himself joined the Burisma board at a salary of $83,000 a month with no obvious work duties past making such introductions.
Hunter's laptop was chock-a-block with video that appears to show Hunter smoking crack while engaged in a sex act with a woman, as well as numerous other sexually explicit images. There's evidence there that Hunter spent money on escorts, some $21,000 on cam sites, big plays on all sorts of depravities. There is also Joe's car insurance information, Hunter's SSN, pages of call logs, and lots of email addresses, bank account numbers, and personal information of prominent people. None of the material is encrypted, just dumped on a standard MacBook Pro using the password "Hunter02." The machine was regularly connected to the internet and might as well have had an electronic sign on it saying "My dad is important, here's what you'll need to blackmail me and others to get to him."
But there is more. The laptop shows Hunter, through a number of front companies, accepted money from Chinese and Ukrainian entities and moved that money to the U.S. where it was parceled out to other entities, including Joe Biden's brother. Some of it then went back to Chinese hands. There is no way a simple read-through can tell if the money was legal consulting fees or illegal money laundering and tax fraud. But it all smells bad: multi-million dollar transfers to LLCs without employees, residences used as multiple business addresses, legal tricks from Cyprus and the British Virgin Islands, and even a minor CIA connection.
Read more here: Hunter Biden's Guilty Laptop | The American Conservative
Robert Hunter Biden (born February 4, 1970) is an American lawyer and investment advisor who is the second son of United States president-elect Joe Biden
In December 2020, Biden made a public announcement via his attorney that his tax affairs are under federal criminal investigation. Both the New York Times and CNN citing sources familiar with the investigation described the investigation as having started in late 2018 and being related to potential violations of tax and money laundering laws and his business dealings in foreign countries, principally China.
Naval career
Biden's application for a position in the U.S. Navy Reserve was approved in May 2013. At age 43, Biden was accepted as part of a program that allows a limited number of applicants with desirable skills to receive commissions and serve in staff positions. Biden received an age-related waiver and a waiver due to a past drug-related incident; he was sworn in as a direct commission officer. Joe Biden administered his commissioning oath in a White House ceremony.
The following month, Biden tested positive for cocaine during a urinalysis test and was subsequently discharged administratively. Biden attributed the result to smoking cigarettes he had accepted from other smokers, claiming the cigarettes were laced with cocaine. He chose not to appeal the matter as it was unlikely that the panel would believe his explanation given his history with drugs and also due to the likelihood of news leaking to the press; it was ultimately revealed to The Wall Street Journal by a Navy official who provided the information.
Biden spent decades struggling with alcohol and drug addiction. He said, "There's addiction in every family. I was in that darkness. I was in that tunnel—it's a never-ending tunnel. You don't get rid of it. You figure out how to deal with it"
Biden married South African filmmaker Melissa Cohen in May 2019.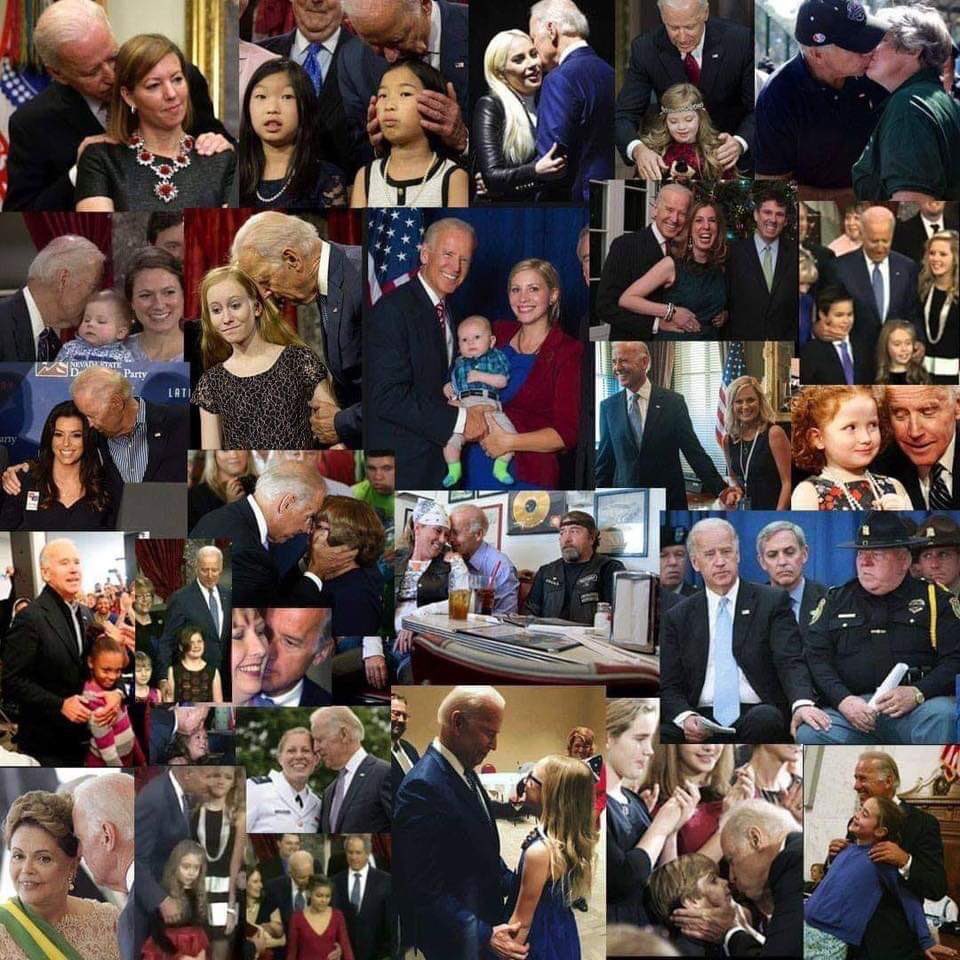 Joe Biden wants to import at least 125,000 refugees next year, so offering a huge inflow of cheap disposable labor to meatpackers, farm companies, retailers, and other low-wage, low-tech employers.
Read more here at Breitbart
#JoeBiden #CreepyJoeBiden #CreepyJoe
Sexual Assault Criminal Complaint Filed Against Rapey Joe Biden
Here are all the times Joe Biden has been accused of acting inappropriately toward women and girls
Former Secret Service Agent Claims Joe Biden Would Regularly Grope Female Agents and Guests.
Joe Biden Kissing Little Boy on the Lips