The US and Russia are going toe to toe in the Arctic Circle. As climate change shrinks the polar ice caps, new shipping routes are opening up and Russia wants to set the rules. And it's using its new chairmanship of the Arctic Council to do that. If that doesn't work, there's always the Russian military.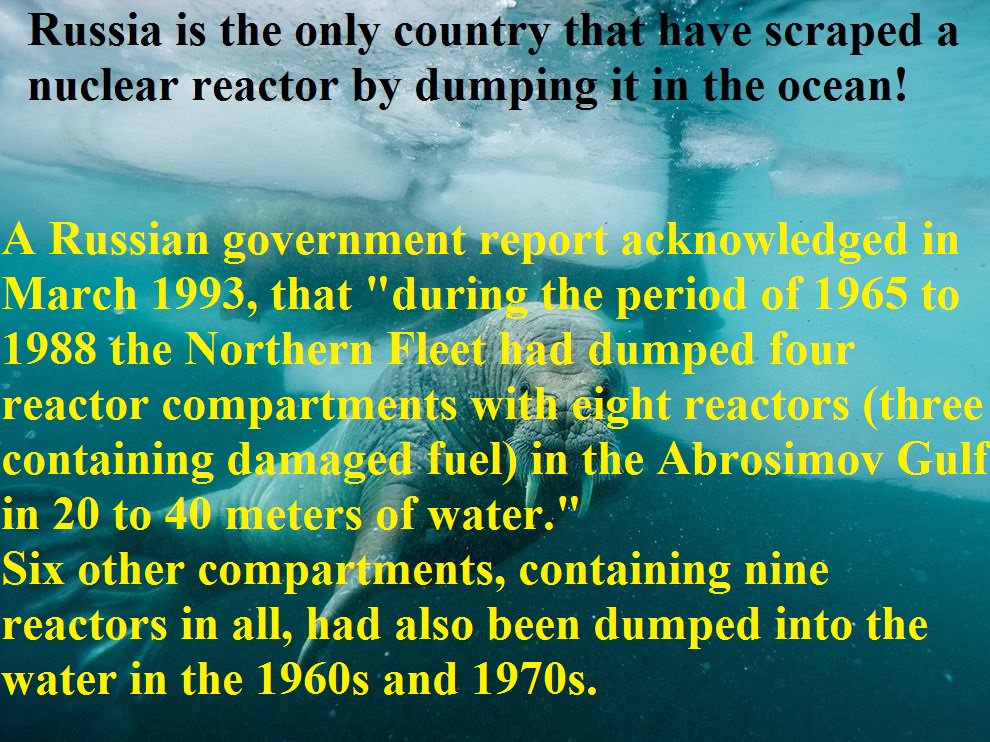 Soviet Whaling: A Study in Evil
Are they preparing a new annexation? Russia has claimed its rights to Svalbard and insists that it is "not originally Norwegian territory"
Russia tries to intimidate Denmark with new warship
US re-establishes naval fleet in Atlantic amid increased Russia threat
U.S. Navy releases video of Russian Ship, accuses ship of aggressive moves
Russia's Military Power (2017)
Russia's New Maritime Doctrine And Issues With The Surface Fleet
Russia's Sole Aircraft Carrier Catches Fire in Northern Port
Chinese and Russian Economies Continue to Integrate – Another Small Example of Fruits, Veggies, and Rail Lines
Russia Calls for Entry into the Turkish Council, Discussions with Turkey Include a Pan-Slavic Muslim Army Hybrid
For decades, Russia's oil giants have been polluting parts of the country's once thriving landscape, often in secret, spilling oil onto the land and into the Arctic Ocean, poisoning the water and destroying the livelihood of local communities and Indigenous Peoples.
Ventilators linked to deadly Russian hospital fires were sent to U.S.
Trump VS Russia—Pulling Out of Surveillance Treaty
–
The Russian (((Bolshevik Revolution)))
–
Russia | Search Results | VikingLifeBlog
The North Pole Belongs to Denmark!
A map of Arctic Council members. Member countries are in dark blue. Observers are in light blue.
The Arctic Council is a high-level intergovernmental forum that addresses issues faced by the Arctic governments and the indigenous people of the Arctic. The eight countries with sovereignty over the lands within the Arctic Circle constitute the members of the council: Canada, Denmark, Finland, Iceland, Norway, Russia, Sweden, and the United States. Outside these, there are some observer states.
Observer states
Observer status is open to non-Arctic states approved by the Council at the Ministerial Meetings that occur once every two years. Observers have no voting rights in the Council. As of May 2019, thirteen non-Arctic states have observer status. Observer states receive invitations for most Council meetings. Their participation in projects and task forces within the working groups is not always possible, but this poses few problems as few observer states want to participate at such a detailed level.
Observer states consist of the following (2019):
Germany, 1998
Netherlands, 1998
Poland, 1998
United Kingdom, 1998
France, 2000
Spain, 2006
China, 2013
India, 2013
Italy, 2013
Japan, 2013
South Korea, 2013
Singapore, 2013
Switzerland, 2017
In 2011, the Council clarified its criteria for admission of observers, most notably including a requirement of applicants to "recognize Arctic States' sovereignty, sovereign rights and jurisdiction in the Arctic" and "recognize that an extensive legal framework applies to the Arctic Ocean including, notably, the Law of the Sea, and that this framework provides a solid foundation for responsible management of this ocean"
Read more here: Arctic Council – Wikipedia