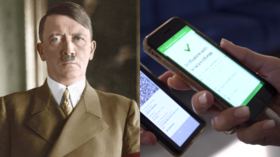 A colorized photograph of Adolf Hitler, seen beside a security guard
checking Covid certificates at a factory in Italy © Wikipedia and
Reuters / Reuters TV
online this week, before beinginvalidated. The incident raises questions about the security of the
'vaccine passport' system.A QR code appeared online on Tuesday and, when scanned with several verification apps, revealed a working EU Digital Covid Certificate bearing the name "Adolf Hitler," born on January 1, 1900. Several versions of the code were then noticed on tech forums, some with the name capitalized, others with a different birthday. But all would have granted the Fuhrer access to any indoor
event off-limits to the unvaccinated.
REEEEEEEEEEEE!
It offends me, that they got his birthday wrong!
🙂