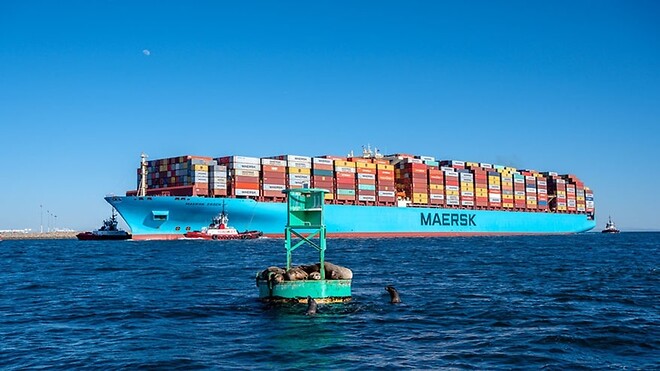 Denmark use a lot of loanwords from Dutch and Low German in regards to ships. Which is kind of funny when thinking of Danish history, the Vikings, the navy, Mærsk the biggest shipping company ever, etc..
Here is a few examples:
"Agter er i skibsterminologi betegnelsen for bagude (agterud), bageste del af skibet, og hækken er den del af skibet som rager agter ud over vandlinjen.
Achter (præposition) er det hollandske og plattyske ord for: bag ved, bag."
"Betegnelsen kabys er formodentlig opstået fra den plattyske benævnelse, kabuse = bræddeskur og/ eller det hollandske kombuis."
"Luv (fra nederlandsk te loeve waart, 'på vindsiden') og læ er to maritime udtryk."
"Ordet pøs stammer fra det hollandske 'puts', og betegnede oprindeligt en spand med et tov monteret på hanken. Midt på pøsens hank fandtes et øje, hvori tovværket var fastsplejset. På den måde var det muligt at kaste den overbord og dernæst hale en fyldt pøs med havvand indenbords. I træskibenes dage anvendtes havvand til stort set alt, hvad der skulle bruges vand til, idet der ombord kun fandtes en begrænset mængde af ferskvand."
How to tell apart Danish, German and Dutch
How to tell apart Dutch, Afrikaans and Frisian
–
Why does Old English sound like Danish?
English Words with Old Norse Origins
The North Germanic Languages of the Nordic Nations
Nynorsk and Bokmål: Why are there two ways to write Norwegian?
Anglish – What if English Were 100% Germanic?
Why Danish sounds funny to Scandinavians
Isolated People in Sweden Used Runes Up Until The 20th Century
Scandinavians, Why Do They All Have the Same Name?
Mærsk – World Largest Shipping Company
Danish company has the technology ready for future CO2-neutral container ships
Danish ships begins cleaning the Great Pacific Garbage Patch
Flyvefisken-class patrol vessel